Jubilee - Setup
The Klipsch Jubilee takes a little more time to setup than a normal passive speaker since it has an external "Active Crossover" included with every pair of Jubilee speakers. Follow this guide to ensure your Klipsch Jubilee's are set up properly and you are getting the best sound possible.
For unboxing, assembly, and placement guides for the Klipsch Jubilee, see the links below:
Jubilee - Unpacking and Assembly
NOTE: THIS SPEAKER IS ONLY ABLE TO BE CONNECTED VIA A BI-AMP SETUP. DUE TO THIS, YOU WILL NEED AN AMPLIFIER WITH AT LEAST 4 CHANNELS OF POWER, OR 2 SEPARATE AMPLIFIERS WITH AT LEAST 2 CHANNELS ON EACH.
Step 1: Connect Source Device/Pre-Amp to Active Crossover
After placing the speakers in their desired location, it is time to begin connecting all your AV devices together. Begin by connecting your audio source device or pre-amp to the "input" section of the amplifier. You can do this by using either the balanced (XLR) L and R inputs, or the unbalanced (RCA) L and R inputs. Please Note that the EQ/DSP on the crossover is active whether using Balanced or Unbalanced connections.
For a diagram of the Active Crossover inputs and outputs, check out this article - Jubilee - Active Crossover Controls, Inputs and Outputs


NOTE: If you are using balanced (XLR) inputs, make sure the "input type" switch is set to the upward position. If you are using unbalanced (RCA) inputs, move this switch to the downward position. For more information about these switches, check out this article - Jubilee - Active Crossover Controls, Inputs and Outputs
Step 2: Connect Active Crossover to Amplifier(s)
Once your input has been connected, it is time to utilize the "outputs" on the Active Crossover. Using either the balanced (XLR) or unbalanced (RCA) outputs, connect the active crossover to your amplifiers.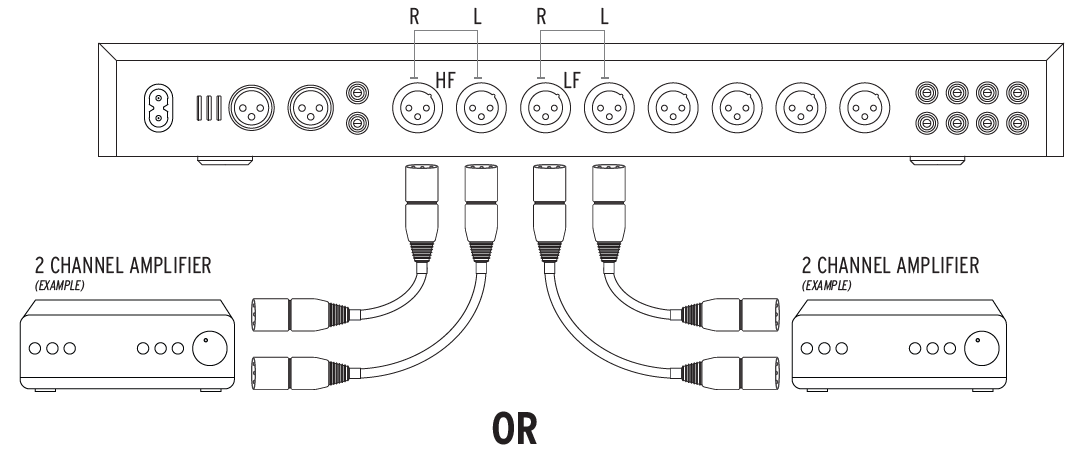 If your setup requires it, you can also mix and match RCA/XLR connections. For example, you can use XLR connections for the HF, and then use RCA connections for the LF, or vice versa.
If using a tube amplifier, there will be a -3dB reduction in output. To mitigate this, use the HF and LF knobs on the Active Crossover to compensate.
Step 3: Connect Amplifier to Jubilee Speakers
After you have connected your Active Crossover to the amplifier(s), it is time to connect the amp to the Jubilee. Follow the instructions below for guidelines on how to connect using either two 2-channel amplifiers, or a single 4-channel amplifier.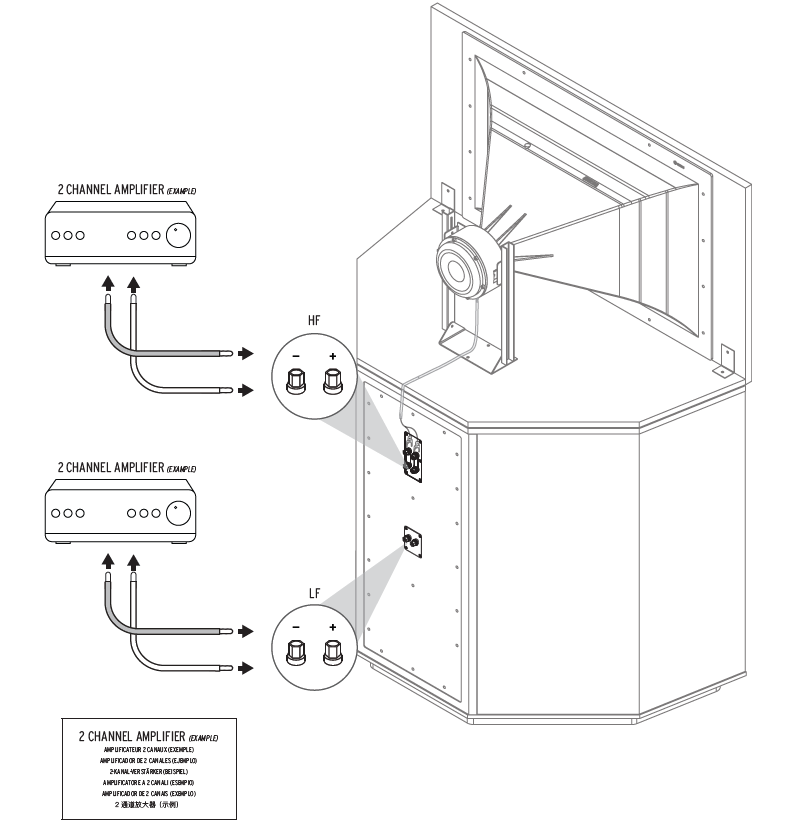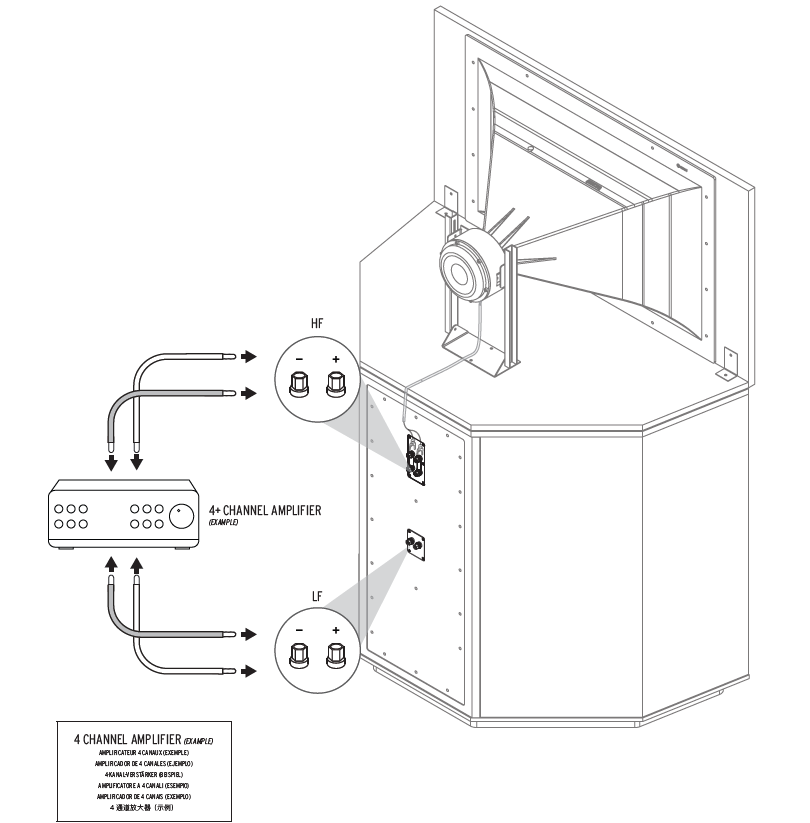 Using bare speaker wire, connect the high-level speaker outputs on your amplifier to the HF and LF binding posts on the Klipsch Jubilee. At this point, your Klipsch Jubilee speakers should be set up and ready to play some audio!
NOTE: Make sure the bridge plates on the HF input cup are in place, or else you may not hear any sound from the HF driver.
For additional information and safety guides while using the Klipsch Jubilee Speakers, see our article here - Jubilee - Warnings and Additional Information