ProMedia Heritage 2.1 - USB Firmware Update
This update includes tweaks and features based on customer feedback.
What's New In This Update
Release Version: 66
Release Date: September 26th, 2022
New feature! Enable or disable Auto Power by holding the Night Mode button for 5 seconds.
LED now flashes 3 times if Auto Power is On, and 5 times if it is Off.
Improved wake-up time from standby.

Before You Begin
To install this update, you will need:
1 USB 2.0 flash drive, formatted FAT32 (Instructions Below)
About 10 minutes
USB Flash Drive Formatting Instructions
You will need to format the flash drive before your product can read from it. If you already know how to format a flash drive for FAT32, feel free to skip this step.
How to Format Your USB Drive to FAT32 - Windows
How To Format Your USB Drive to FAT32 - Mac
IMPORTANT: Use a flash drive that doesn't store any important information. This process will wipe the contents of the drive.
Installing the Update
Follow the instructions below to install the latest firmware update on your Klipsch ProMedia Heritage
2.1 sound system.
Step 1 – Copy the Update File to the USB Thumb Drive
If there are any important files on the thumb drive, make sure you back them up. Then, delete any
existing files and folders on the thumb drive.
Using your computer's decompression program, follow the link below and extract the files from the downloaded ZIP file.
Now, copy the file named ota.bin to the thumb drive.
It should look similar to this when complete: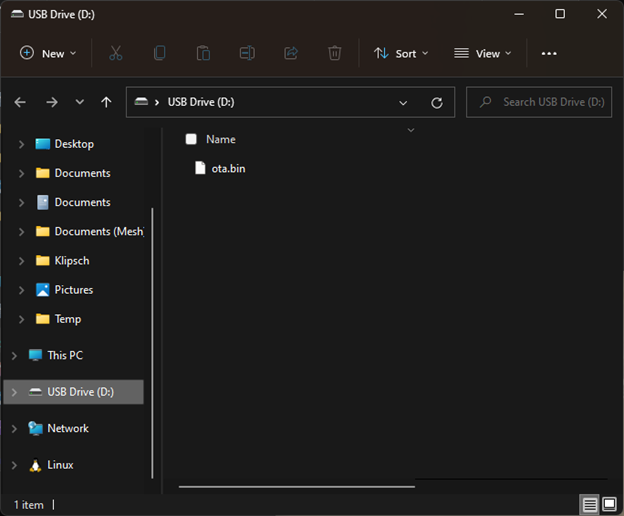 Step 2 – Install the Update
Turn your ProMedia Heritage 2.1 off by flipping its "Power" switch to the "Off" position.
Remove the USB thumb drive from your computer. Insert it into the USB port on the back of your ProMedia Heritage 2.1 subwoofer.
Turn your ProMedia Heritage 2.1 subwoofer Power switch to the On position.
The light on the front of the ProMedia Heritage 2.1 subwoofer will flash Green, and then the light will turn off.
After a few seconds, the light will turn back on and start blinking Blue.
This indicates the update is complete! You can now remove the USB thumb drive and continue enjoying your ProMedia Heritage 2.1.
Step 3 - Checking the Firmware Version
Hold down the Bass dial for about 7 seconds, until the lights start flashing.
The first set of lights is the 10s.
The second set of lights is the 1s. This update should bring the PMH2.1 to version 66.
Example: Firmware Version 66 would be 6 light flashes, then 6 light flashes.
When complete, the device will return to the current input indicator, if LED is enabled
Follow this link for a video tutorial - https://www.youtube.com/shorts/QKGp67KxWlc
If you have any issues performing this update or would like direct assistance, please reach out to Klipsch Product Support - How To Contact Us for Support