ProMedia Heritage 2.1 - Connecting via AUX
The ProMedia Heritage 2.1 comes with a dual RCA to dingle AUX cable. To play music through this cable, follow these instructions below.
Step 1 - Connect the Cables
Begin by plugging the dual RCA end of the cable into the back of the ProMedia Heritage 2.1. Make sure to match up the colors of the cables to the colors of the inputs on the subwoofer.
Plug the other end of the cable (AUX) into your source device (i.e. computer or mobile device).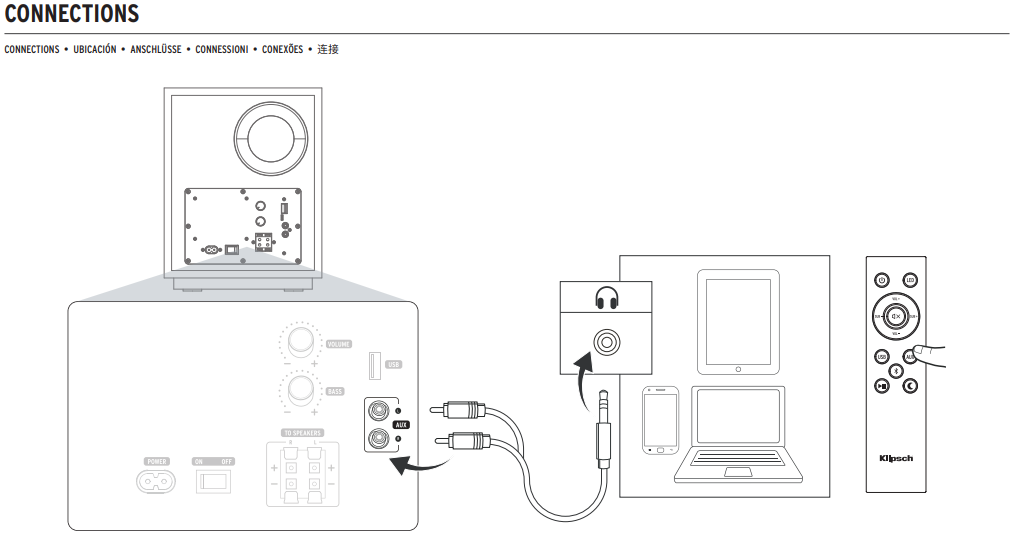 Step 2 - Select the Source
After you have connected the cables, the ProMedia Heritage 2.1 will not automatically change sources. Because of this, you will want to press the "AUX" button on the included remote to change the source to the Auxiliary input.
NOTE: You should see a green LED on the front of the subwoofer when the AUX source is selected.
Step 3 - Play Audio
Once your ProMedia Heritage 2.1 is plugged in and on the correct source, begin playing some audio from your source device to ensure the system is working properly.
If you have any further questions or concerns, please reach out to Klipsch Product Support for direct assistance - How To Contact Us for Support