T5 II True Wireless ANC - Firmware Update Process
Below, you will find looped videos (.gif's), as well as additional text and images to assist you in updating the T5 II True Wireless ANC firmware.
First, you will need to be sure to download the Klipsch Connect app:
If you already have the Connect app downloaded, please ensure that you are running the latest version, which is 1.7.1 (or greater). To view which version of the app you are running - open the app and, from the product home screen, tap the three lines

located in the upper left hand corner. You will then tap on the 'About' section; the version you are currently running will be next to 'App Version:'.

1. Once downloaded, ensure that the earphones are powered on and connected to the mobile device
2. Begin by tapping on the Klipsch Connect app. Your earphones should automatically connect to the app and then move you to the product's "home page" within the app.
- Note: If you have not already previously connected your earphones to the Klipsch Connect app, you will first need to go through the initial setup and registration upon opening the app.
3. After the earphones connect to the app, you will then tap on the "Settings" button located at the bottom of the "home" screen.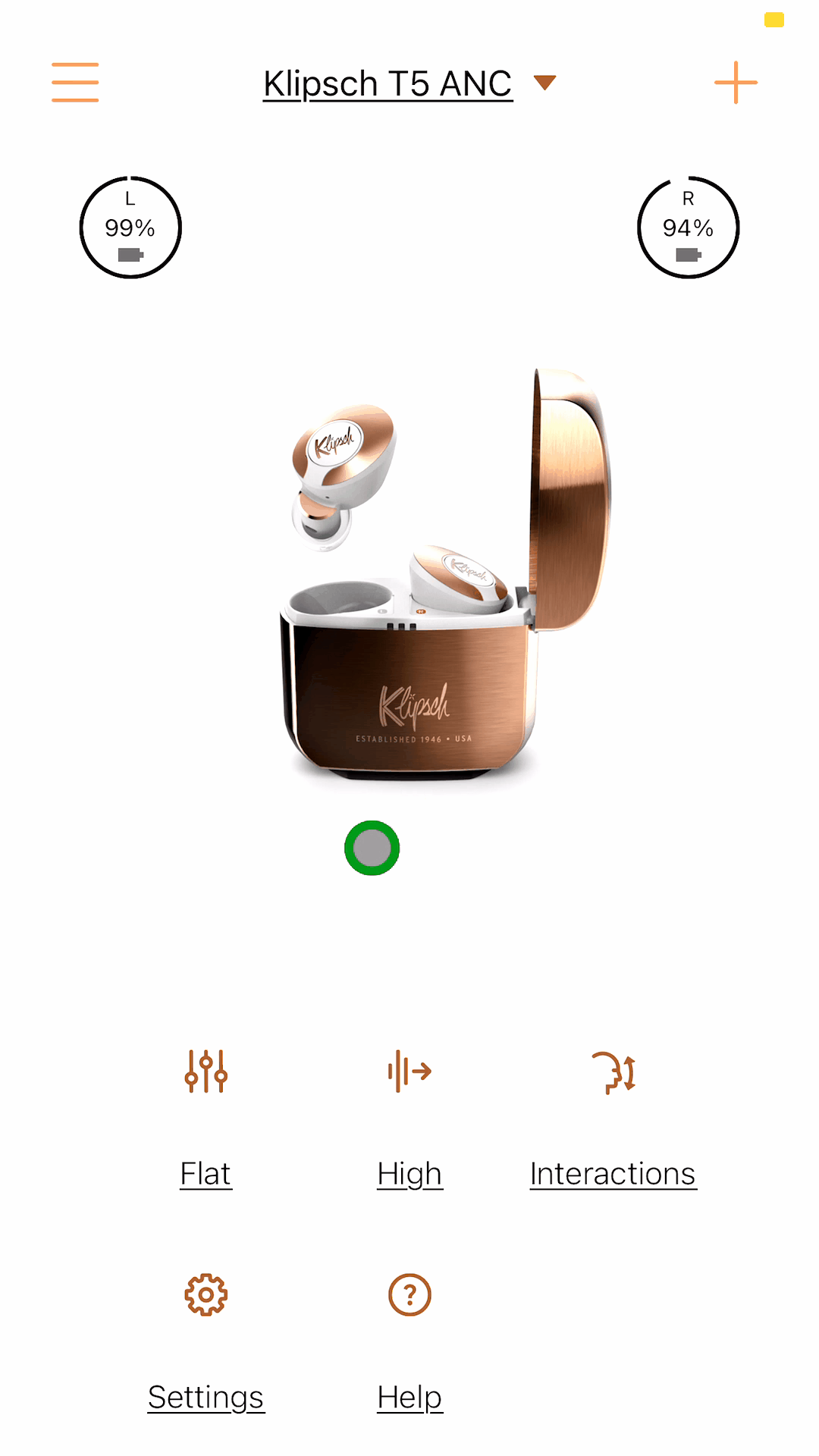 4. Once in the "Updates" menu, the app will search for the latest update. If you have an update available, you will be advised of this. Along with the available update advisement, you will also see some tips/steps to ensure a successful update. Please see below.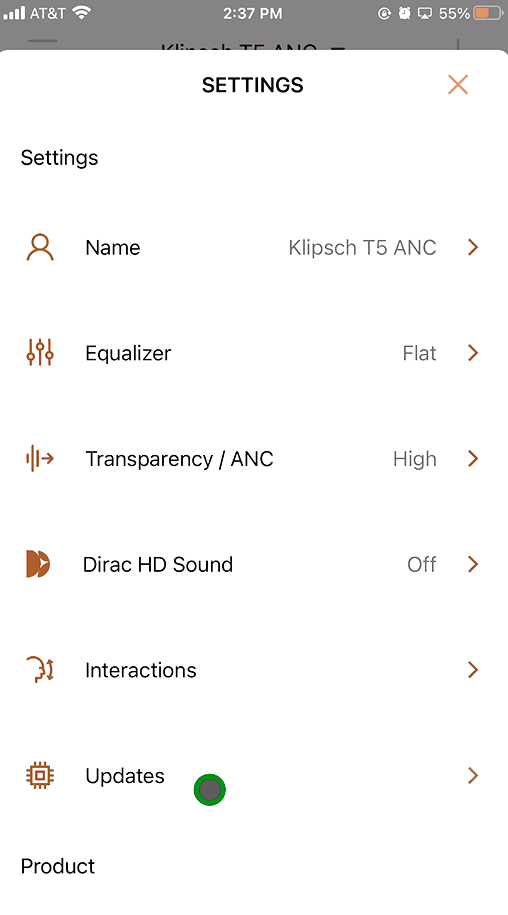 Please Ensure the Following PRIOR to Starting the Update:
You have ~20 minutes to perform the update
Your internet connection is stable and will not drop out during the update
No music or audio apps are playing on the device
The device remains "awake" and unlocked while performing the update

Note: It is recommended to turn off any "Auto-Lock" or "Auto-Sleep" features that may be active on your device before starting the update. In addition, you may also want to set your phone to "Do Not Disturb" (typically found within the Settings menu) to ensure that no phone calls or messages interrupt the update process.
5. Once you are ready to start the update, simply tap the "Update" button to begin the firmware update process. First, you will see the update quickly download followed by a "Connecting" prompt. The installation of the update will begin after this "Connecting" prompt.
(please note that the looped video below has been edited for time/length)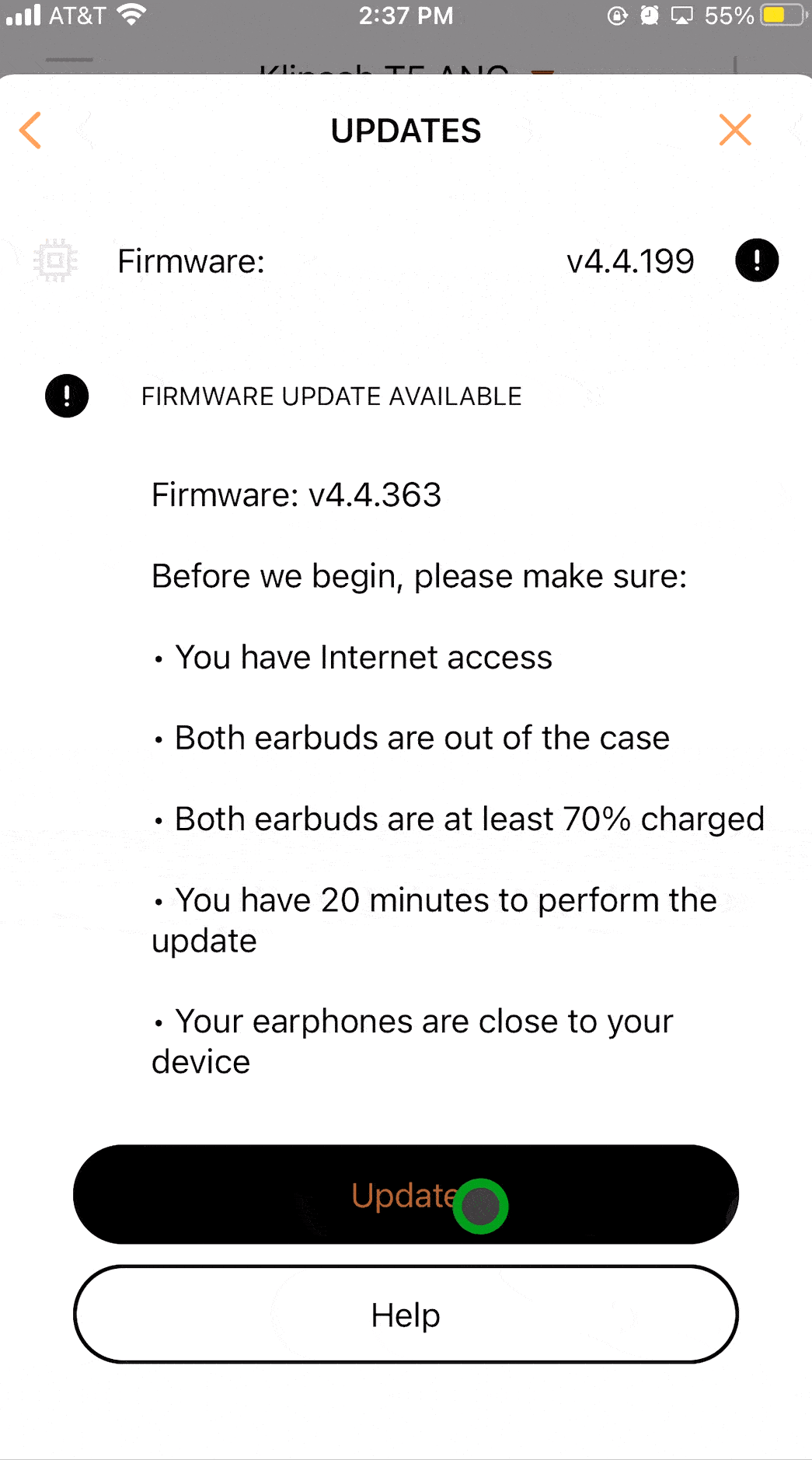 6. Please note that once the update reaches "100.0%", you will then see additional prompts that include:
"Finalizing Update. This may take several minutes."
"Rebooting" (Note: you may very briefly see "Updating 0.0%" after this prompt)
"Validating Update"
It is normal for these last few steps to take several minutes. Please ensure the update completely finalizes before using your phone in any way.
If you find that you are having difficulty completing the update, we would recommend performing a factory reset on the earphones before updating again. For assistance on how to factory reset, please see our article - T5 II True Wireless ANC - Factory Reset