The Fives - USB Firmware Update (Step 1)
The Fives include special software, called firmware, that controls how the product works. By updating the firmware, you can get bug fixes and additional features. These steps will walk you through how to update the Fives using a USB Flash Drive before finishing the update through the Klipsch Fives Updater app.
What You Will Need:
Internet access, to download the files

A USB thumb drive, at least 1 GB in size, preferably no larger than 8GB, to hold the files.

These are also known as thumb drives and USB sticks

About 20 minutes to perform the update
TIP: If you have issues getting the update to run, try a USB 2.0 drive instead of USB 3.0.
Step 1 – Properly Format the Flash Drive
You will first need to re-format your flash drive before The Fives can read from it. If you already know how to format a flash drive for FAT32, feel free to skip this step. If not, the instructions are below:
How to Format Your USB Drive to FAT32 - Windows
How To Format Your USB Drive to FAT32 - Mac
IMPORTANT: Use a flash drive that doesn't hold any important information. This process will wipe the contents of the drive.
Step 2 - Download the Update
Once your flash drive is properly formatted, follow the link below to download the ZIP file onto your computer:
Step 3 - Extract the Files to Flash Drive
Extract all the files to the thumb drive. It is important that the files be the ONLY items on the thumb drive.
NOTE: They should not be placed in a folder, otherwise the speaker will not be able to read them. An example of this is below.
Windows/PC: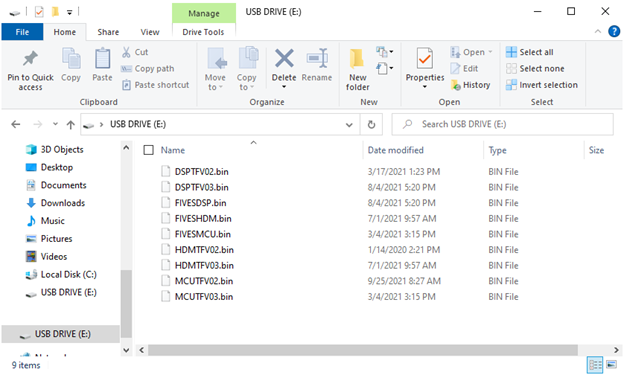 NOTE: Your drive letter may be different.
iOS/MacOS: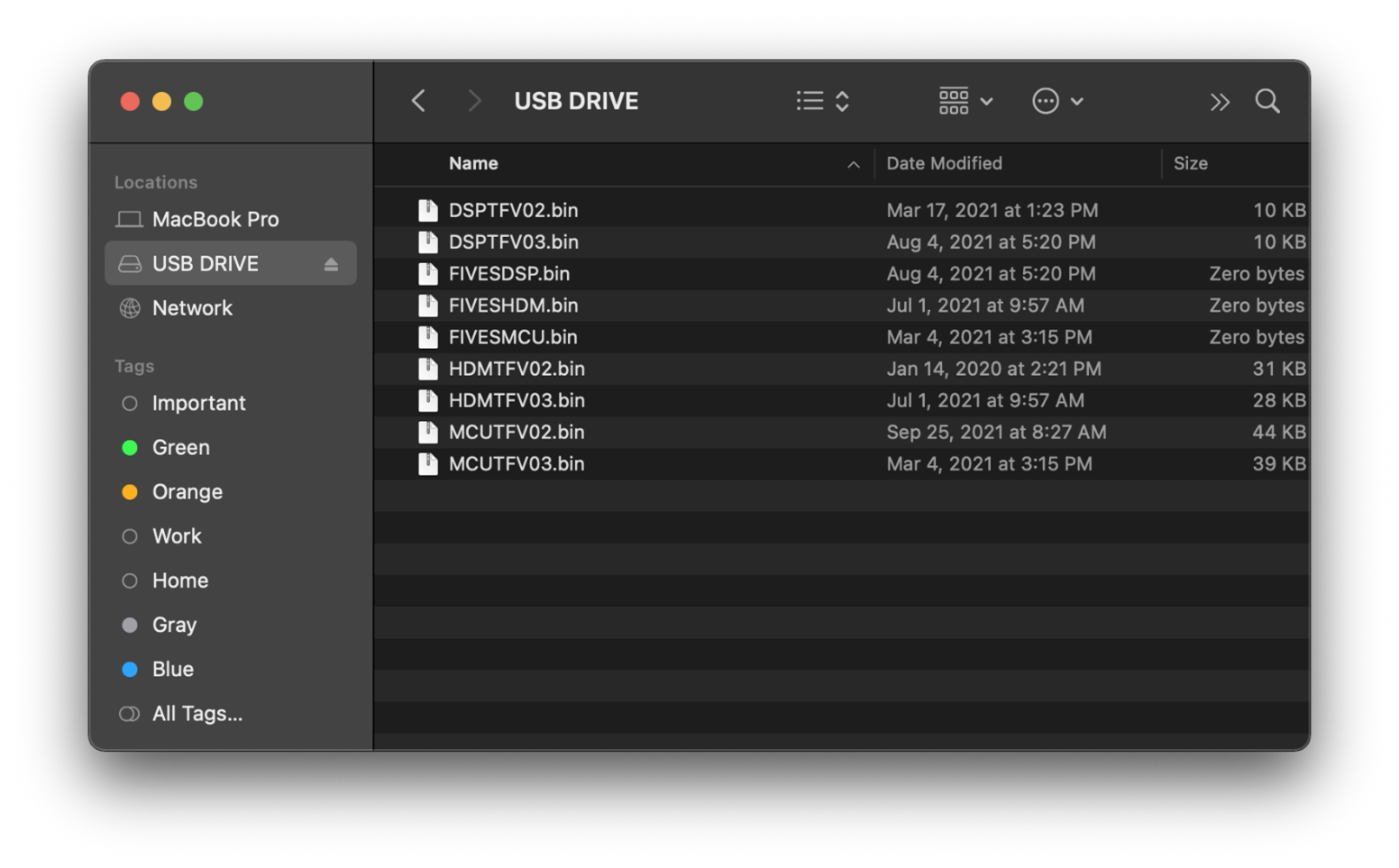 Once all files are on the Flash Drive, safely eject the drive from your computer.
Step 4 - Install the Update onto the Fives
Once the files have been extracted and copied, follow these steps to install the update:
Remove the power cord and all audio cables from your Fives speakers

Insert the flash drive into the USB port labeled "SERVICE" on the back of the Fives

Re-connect the power cord to your Fives

Wait about two minutes while the update applies. During the update each input will flash and cycle through updates -

(If the LED's did not flash on all inputs, one after another, the update did not install! Try the update again using a different USB drive)

Upon completion of the firmware update, the input will return to previous input with a solid LED light

IMPORTANT: Remove the flash drive from the Fives and plug back in any audio cables.

The USB portion of this update is complete! Continue to "Step 2" in the app to complete your update process - The Fives - Klipsch The Fives Updater App - Two Step Process
If you have issues with this portion of the Fives update, please contact the Product Support team for direct assistance - How To Submit