Klipsch Connect - Error "Couldn't pair because of an incorrect PIN or passkey" - The Fives, Sevens and Nines
Error "Couldn't pair because of an incorrect PIN or passkey" in Klipsch Connect when using The Fives, Sevens, or Nines
Overview
This error usually occurs because the in-app pairing request was not accepted. That prevents the app from talking with your device. Once the permission/pairing request is denied, Android will not ask again until the device is removed and re-added to the app. This will lead to many disconnects in the app and can be a frustrating experience.
The error looks similar to this:

Why It Happens
It is important when you are adding your device to Klipsch Connect you accept the pairing requests, which look similar to the prompt below: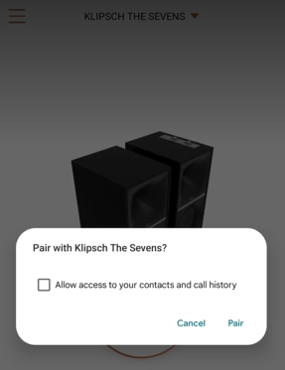 NOTE: You do not have to provide access to contacts and call history. It is safe to ignore that checkbox. The app does not use it.
How to Fix
Remove your device from Klipsch Connect.
Un-pair – a.k.a. "forget" – your device from your phone/tablet.
Re-pair your device to your phone/tablet.
Add your device to Klipsch Connect again.
Accept ALL pairing prompts. It is OK to not check the box for contacts and call history.
The app should now work properly.