The Fives - How Do The Fives Compare to The Sixes?
For information on how The Fives compare to their predecessor product, The Sixes, please see below.
The quoted text below was taken from a review for The Fives, published by our friends at Audio Advice:
"Like The Sixes, The Fives put amplification inside the speaker cabinets, but with a more compact footprint. While The Sixes have a larger driver, it's not just about the size of the driver when it comes to what makes a powered speaker sound great. There are many other variables that have a much larger impact on sound, such as amp architecture, digital signal processing (DSP), and EQ. The Sixes have a 6 1/2" long-throw woofer with a 1" voice coil. The Fives have a smaller 4 1/2" driver, but with a 50% larger 1.5" voice coil. This translates to the ability to move more air (aka play louder), as well as the ability for the speaker to be more controlled throughout its excursion, resulting in a speaker that is capable of reproducing the more subtle details within the music with much more accuracy. Because of the power allocation on The Fives, they are able to play 3db louder - creating a more dynamic experience with more raw output. Both The Fives & The Sixes are bi-amped, allowing effortless sound at both high and low volume levels. Another noticeable improvement over The Sixes comes from the Tractrix horn in The Fives, which has been completely redesigned with smoother, more open, and consistent dispersion. The Fives will decode 192kHz/24-bit high-res audio, while The Sixes are only capable of decoding up to a 96kHz sampling frequency. The Fives are a ground-up redesign of what Klipsch believes a powered speaker should be - optimizing performance, output, and design."
For the full review article, please visit the following link - Audio Advice's Review on The Fives
For a visual reference, please see the table graphic below that breaks down some of the main differences between The Fives and The Sixes: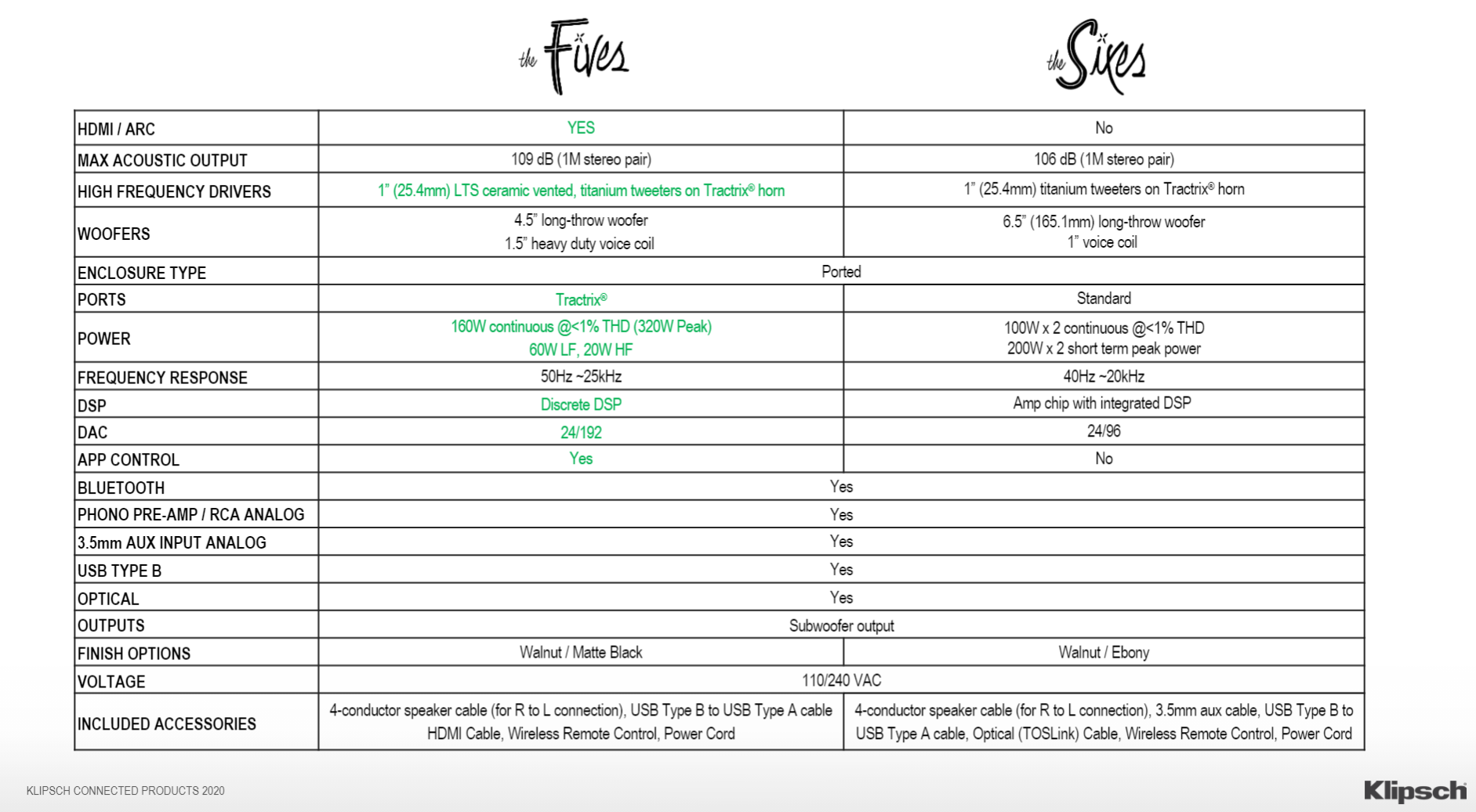 The table graphic above is also attached below so you can download it for easier viewing, if you would like.