The Fives - No Sound via HDMI-ARC (Troubleshooting)
If you notice that The Fives are working on non-HDMI sources, but you can't seem to get any sound through the HDMI-ARC source, it could be due to an incorrect output format on your TV's end.
Your TV should always have it's audio output format set to "PCM" when playing The Fives via HDMI-ARC. The output format should not be set to any "Bitstream", "Dolby" or other surround sound output format
This "PCM" format stands for Pulse-Code Modulation and is a standard technology for converting analog audio into digital audio for 2 channel stereo mixes.
Jump to your TV Brand:
Here are some basic steps on where to find the audio output format setting on a few major TV manufacturers. If you still need assistance in finding these settings, we would recommend that you contact your TV manufacturer directly.
SONY:
Press the HOME button, then select [Settings]
Select [Sound] → [Digital Audio Out] → [PCM]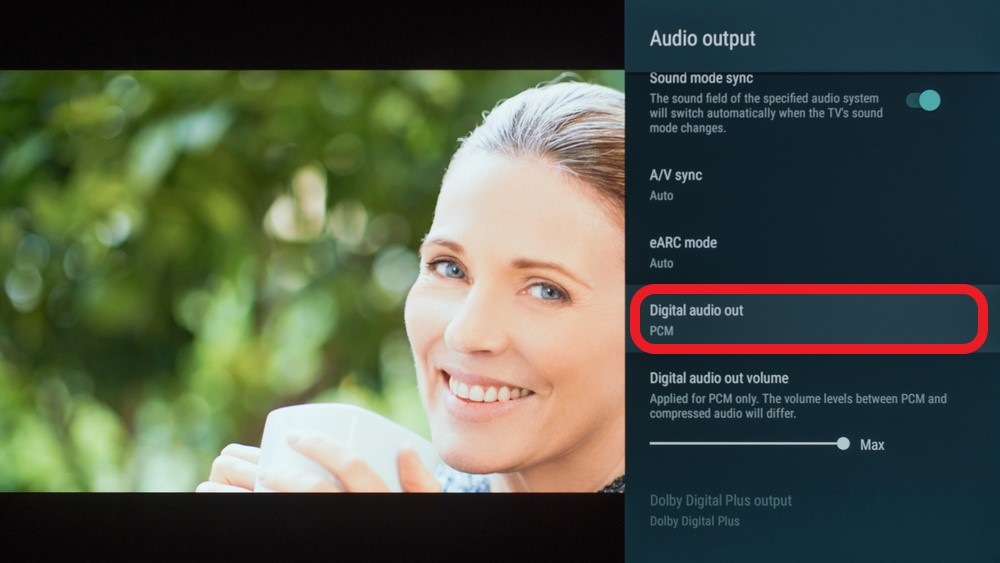 LG:
Select

HDMI ARC

to automatically turn on SIMPLINK (LINK).

Note: If SIMPLINK (LINK) is turned off, the output speaker settings will automatically revert to the default settings. SIMPLINK is the CEC functionality and should be engaged as well.

You can then set

Digital Sound Out

to PCM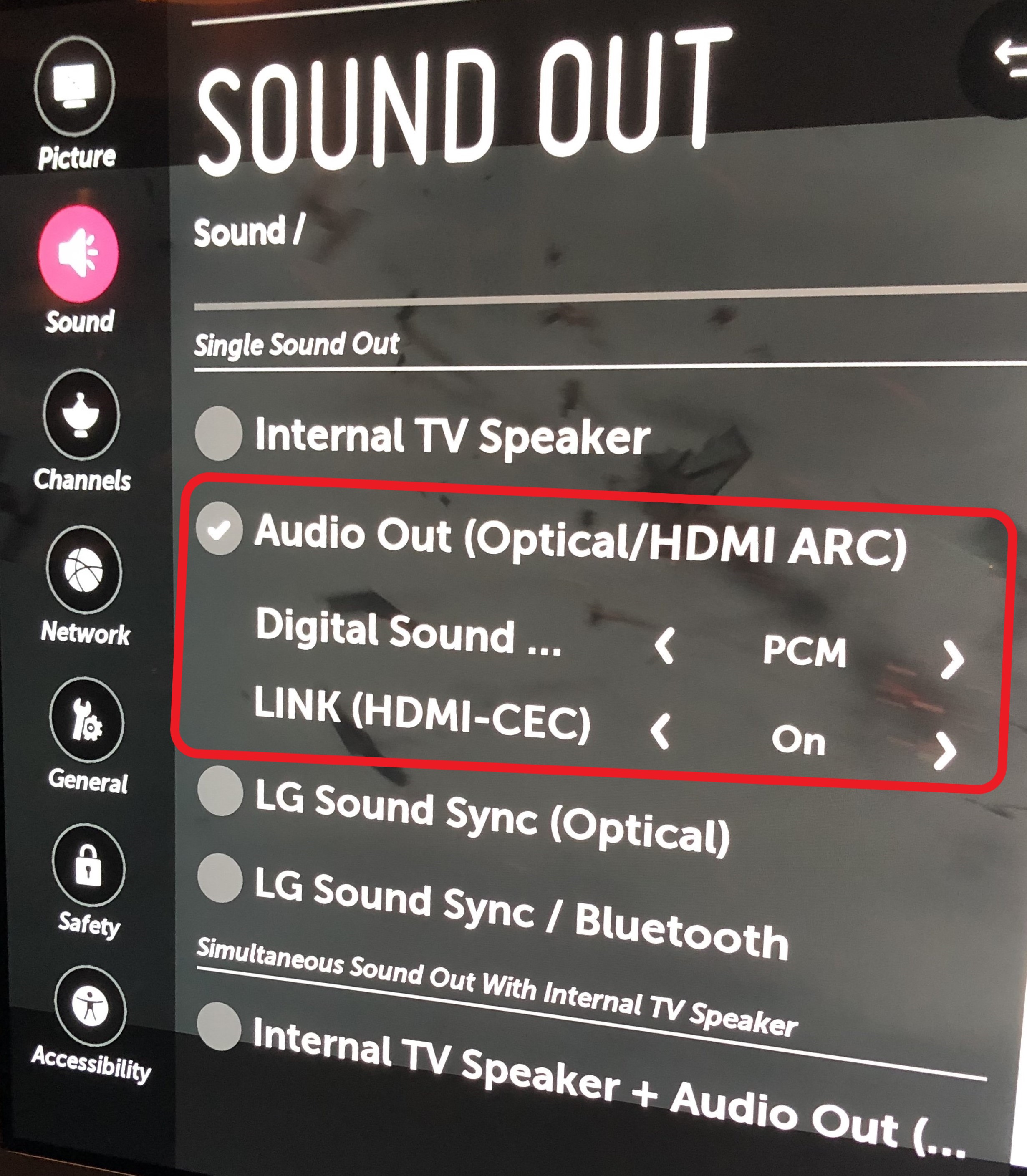 SAMSUNG:
Navigate to Settings
Select Sound and then choose Expert Settings
Select Digital Output Audio Format and choose PCM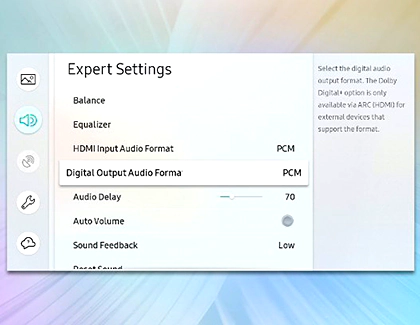 VIZIO:
Press "Menu" on the remote and then select the "TV Settings" option
Locate and select the "Audio" entry, followed by "Advanced Audio"
Press the down arrow button and then select "Digital Audio"
Press the right arrow button to highlight "PCM" and then select it
TCL:
Go to Home Screen
Choose "Settings"
Select "Audio"
Scroll down until you highlight "S/PDIF and ARC"
Select the PCM-Stereo option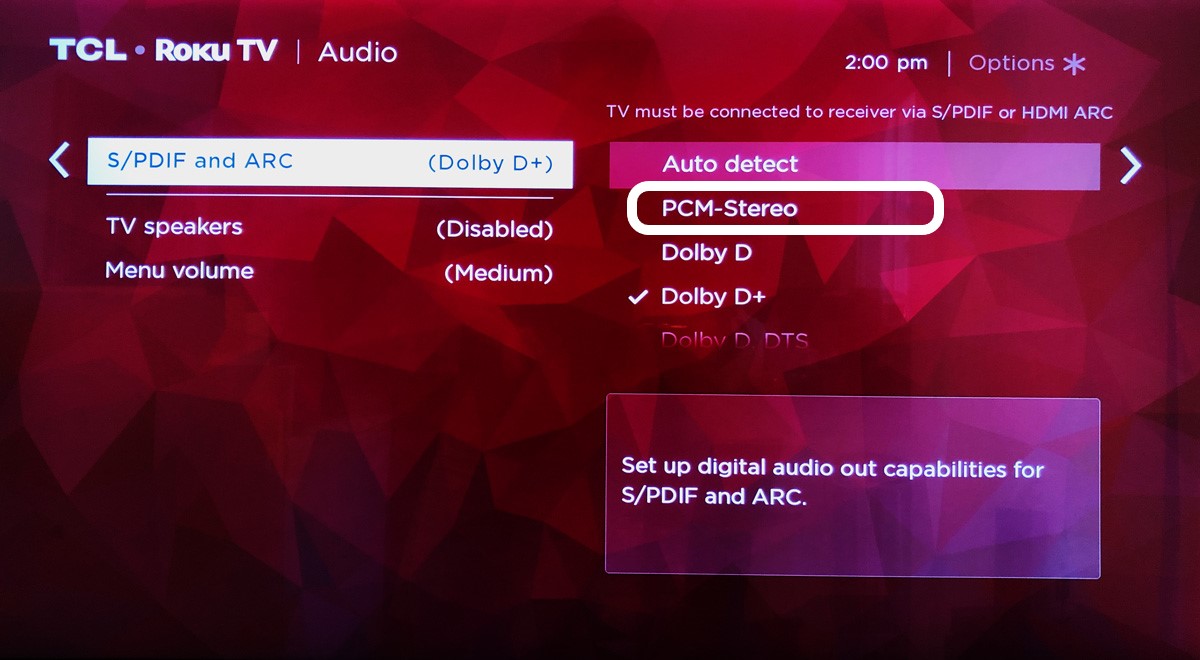 If you find that you still are having issues getting the audio to output via the HDMI-ARC connection, you may also need to ensure the TV's CEC functionality is turned on. For a list of major TV brands and what they refer to their CEC as, please see our article - TV Manufacturer CEC Names