Cinema 600 - Connecting with HDMI-ARC
Below, you will find some additional information on connecting your Cinema 600 sound bar to your TV/devices via HDMI-ARC.
Please Note: The Cinema 600 sound bar requires the TV's CEC functionality to be turned on in order for the bar to receive audio via HDMI-ARC. You can usually find the TV's CEC settings within the TV's menu, options, settings or advanced settings.
Most TV manufacturers have a different name for their CEC functionality ('Anynet+' for Samsung, 'Bravia Sync' for Sony etc.). For assistance with finding what your TV manufacturer calls it's CEC, please see our article - TV Manufacturer CEC Names
In addition, you cannot use this sound bar in conjunction with an A/V Receiver. This product is built and designed to be connected directly with your TV/devices without any AVR needed.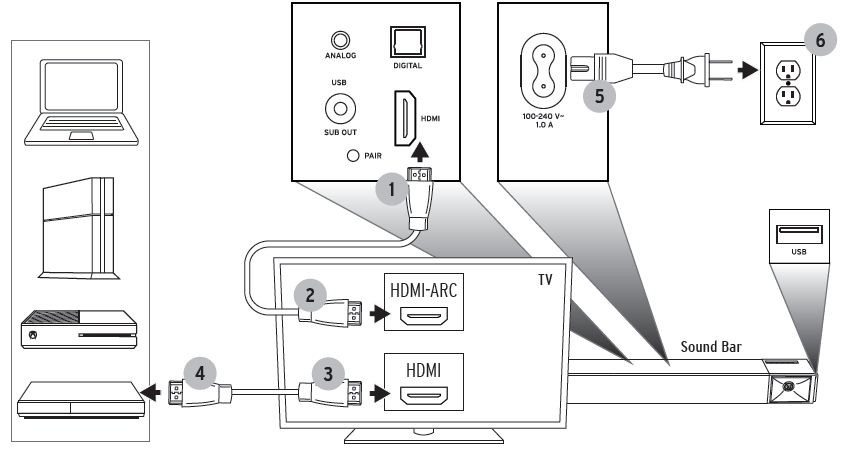 Plug an HDMI cable into the HDMI input on the sound bar
Plug the opposite end into the HDMI-ARC port on the TV
Plug an HDMI cable into the HDMI input on the TV
Plug the opposite end into the gaming system, DVD/Blu-Ray, computer, etc.
Plug the power cord into the sound bar
Plug the opposite end into the outlet
Note: If you are only using the TV as an audio source (no game console(s), DVD/Blu-Ray player(s) etc.), then you will only need an HDMI cord connecting the TV's HDMI-ARC port to the sound bar's HDMI input. The source LED will be orange.
IF THE TV IS STILL OUTPUTTING SOUND VIA THE TV SPEAKERS, YOU MAY NEED TO DISABLE THEM, SET THEM TO AN AUTO DETECTION, OR LOWER THE VOLUME ON THE TV

If you are still unable to get audio via the HDMI source, it is recommended to look into the TV's audio (or advanced) settings. Within that menu, you should be able to find an 'audio output format' setting. Try toggling between the different output formats (Bitstream, RAW, LPCM, Dolby, etc.). If you need assistance in finding these output format settings, please consult your TV's owner's manual, or contact the manufacturer directly.