The Fives - Connecting a Subwoofer
The Fives feature a "Sub Out" jack on the back of the active speaker. This allows you the option to wire any powered subwoofer of your choosing to The Fives for a true cinematic/live experience.

ACCESSORIES NEEDED:
A single RCA cable, or standard subwoofer cable (not included)
Plug one end of the subwoofer cable (or single RCA cable) into the Sub Out jack on the back of The Fives
Plug the other end into the RCA Line In or LFE jack on the back of the powered subwoofer that you have chosen

Note: If your subwoofer has two RCA inputs, you will only need to plug into one (either red or white), not both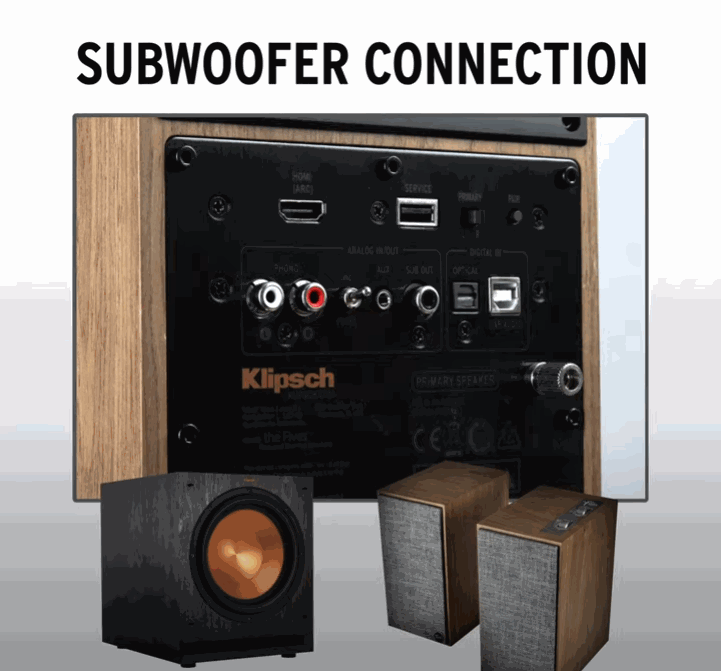 Note: When a powered subwoofer is connected to the Fives, there is an automatic 80 Hz high-pass filter applied to those speakers, as well as an 80 Hz low-pass filter applied to the subwoofer output. Because of this, Klipsch recommends turning the crossover (low-pass) knob to LFE.
If you are using a powered subwoofer for the first time and would like some additional information/assistance on using it, please check out the following articles:
General Sub Controls and Explanations
Is a "Y" Splitter Needed to Hook Up My Subwoofer?
Where is the Best Location for My Subwoofer?