T5 True Wireless - Alone/Mono Mode
Mono mode is a feature unique to the Klipsch T5 True Wireless earphones and gives you complete functionality when you want, or need, to use only one earphone. This functionality includes Voice Assistant, making calls, and playing/pausing music, etc.
Mono mode is activated automatically when one of the earphones is placed in the case. We recommend initiating Mono mode by placing the Secondary earphone in the case. It will also activate if the distance between the two earphones is greater than 30'-45'.
Please note: Your music will pause, or your phone call will be transferred to your phone when the Secondary earphone takes over as the Master/Primary in Mono Mode.
Simply select T5 True Wireless on your device to resume. You will hear an audio prompt that you are in Mono mode.
To resume music, simply single press the Klipsch logo button on the earphone.
To transfer the call to your earphone, select T5 True Wireless on your device.
Here is a breakdown of the control commands when using a single earphone: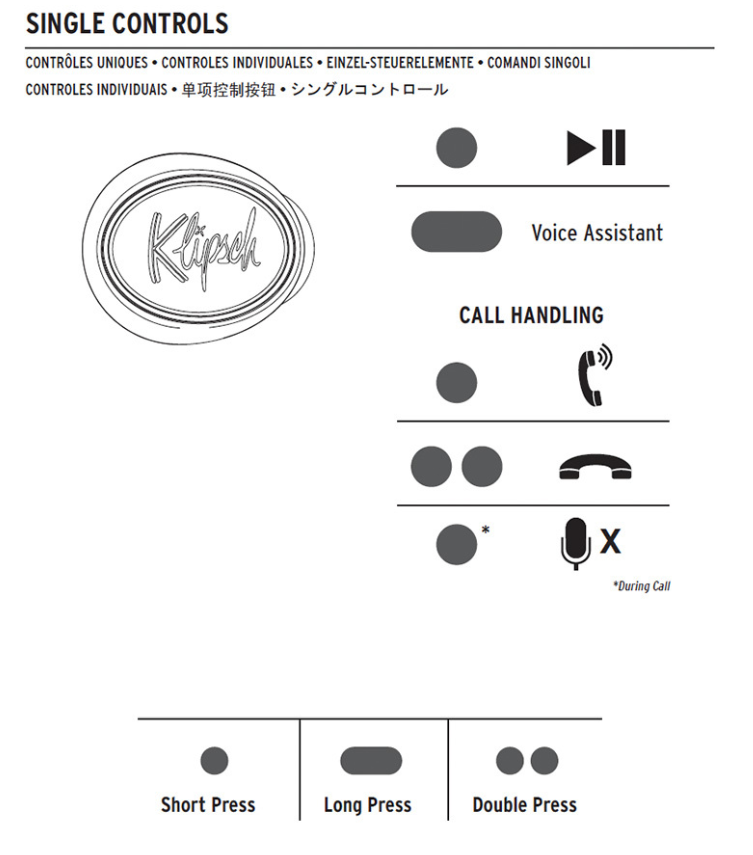 Play/Pause Audio - Single press the button on the earphone to play or pause the audio you are listening to
Activate Voice Assistant - Long press the button on the earphone to activate your device's voice assistant (Siri, Google, Cortana etc.)
Mute Microphone - While on a call, single press the button on the earphone to mute the microphone