Cinema 700 - Getting Started Guide
Congratulations on owning the Klipsch Cinema 700 Dolby Atmos soundbar and subwoofer system. This guide is designed to make the unboxing and setup as easy and straightforward as possible.
Unboxing the System
The Cinema 700 carton holds two separate boxes containing all the components of the system. For ease of unboxing, Klipsch recommends you lay the large carton down to access the internals.
The long rectangular box will contain the Cinema 700 bar itself. A second box will contain the 10" wireless subwoofer. All necessary power and audio cables should be included in the box as well.
Connecting the Subwoofer
The next step in the setup process would be placing and connecting the subwoofer to the Cinema 700 bar. Since the included subwoofer is wireless, you can place it anywhere in the room within about 30ft of the bar (preferably within line of sight). For guidance on where to place the subwoofer to get maximum efficiency, check out our support article here - Where is the Best Location for My Subwoofer?
After placing the sub in the desired position, connect the power cables to the subwoofer and soundbar and plug them both directly into a wall outlet. After powering on the bar and subwoofer, wait about 2 minutes for the system to fully power on.
Once the soundbar and subwoofer are powered on, follow this guide to ensure the wireless subwoofer the Cinema 700 soundbar are successfully paired - Cinema 700 - Subwoofer Wireless Connection
Connecting the Surrounds
The Cinema 700 soundbar and subwoofer system has the capability of connecting to the Surround 3 wireless surround speakers (NOT INCLUDED).
If you have purchased the Surround 3 speakers separately, see the image below for recommendation on most ideal surround placement.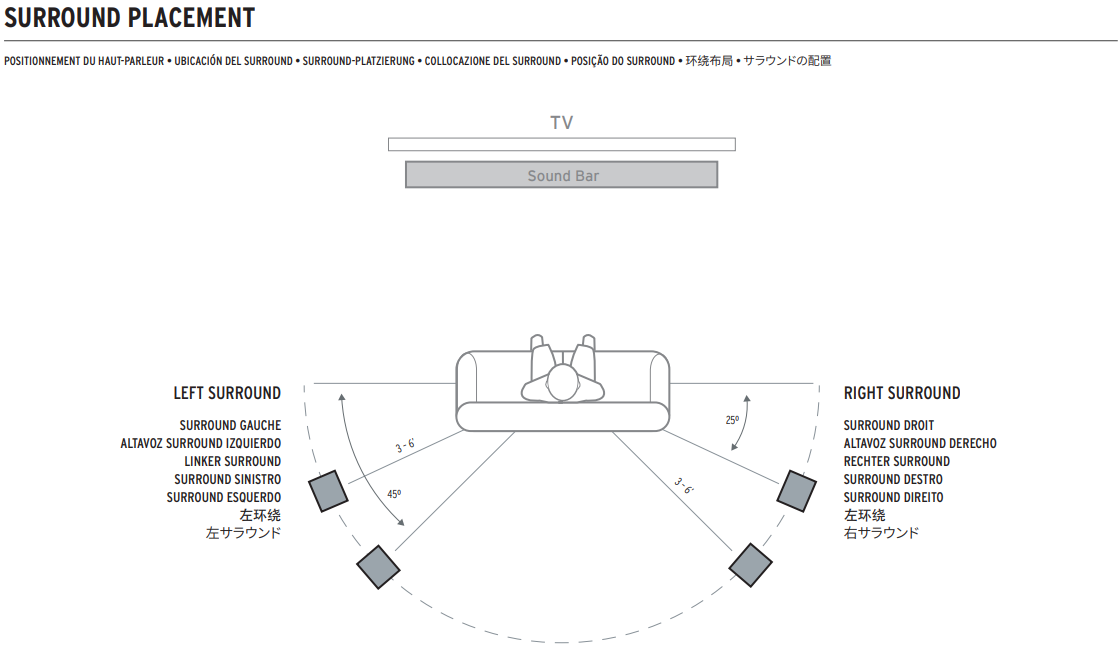 After placing the surrounds in the desired position, make sure the switch on one surround is set to "L", and the other is set to "R". Connect the included power cables and plug the surrounds directly into the wall. Once you see the LED response on the back of both surround speakers, follow the instructions to pair the surround speakers to the soundbar - Cinema 700 - Pairing the Surround 3's
Connecting System via HDMI
Once the subwoofer and surrounds (optional) are connected to your system, it is time to connect to your audio source device (TV/Projector/Computer). For best performance all around, Klipsch recommends you use the included HDMI cable connected to the HDMI-eARC port on your source device. If your device does not have an eARC port, you can connect to the regular HDMI-ARC port instead.
Follow this link for more detailed instructions on how to connect and format the bar using HDMI - Cinema 700 - Connecting via HDMI-ARC
The Cinema 700 System also allows for HDMI video passthrough, meaning you can connect an external device directly to the bar, and the bar will still send the video to your screen through the included HDMI cable. To achieve this, follow the instructions - Cinema 700 - Connecting External HDMI Sources Through Sound Bar
If you are having issues getting audio from your device, check out this article for assistance - Cinema 700 - No Audio via HDMI Troubleshooting
Connecting to Klipsch Connect
The Cinema 700 system has the capability of connecting to your home network to give you some really awesome features. Some of these features include EQ, Virtual Remote, and channel level controls. Follow these instructions to pair your Cinema 700 system to the Klipsch Connect app and access these features - Cinema 700 - Connecting to Klipsch Connect App
If you are having trouble connecting to your home network using the Connect app, follow these instructions to manually pair the bar and your router - Cinema 700 - Connecting to Network via WIFI (WPS)
You can also hard-wire your Cinema 700 system to your home network using an ethernet cable - Cinema 700 - Connecting to Network via Ethernet
Setting up Google Home/Alexa
Once successfully connected to the internet, you should be able to connect your soundbar to the Google Home app, allowing you to CAST audio to the bar. Follow the instructions in this article to connect - Cinema 700 - Connecting to Google Home
You can also set up Amazon Alexa to work with the Cinema 700 system as an end device. To do this, follow these instructions - Cinema 700 - Connecting to Amazon Alexa
At this point, your Cinema 700 Dolby Atmos system should be fully setup. For any questions or concerns with the setup process, please reach out to Klipsch Product support for direct assistance - How To Contact Us for Support