Cinema 700 - Connecting External HDMI Sources Through Sound Bar
Use this connection method when using external HDMI sources (Streaming boxes, Blu-Ray Players, gaming consoles, etc) to play audio/video content, and want to use the Cinema 700 as the source switch.

NOTE: Use this method if your TV does NOT support HDMI eARC and you wish to play back Dolby Atmos via external streaming device or Blu-Ray disc. Check your TV owner's manual for compatibility.
Dolby Atmos playback also requires Dolby Atmos content and Dolby Atmos compatible playback hardware.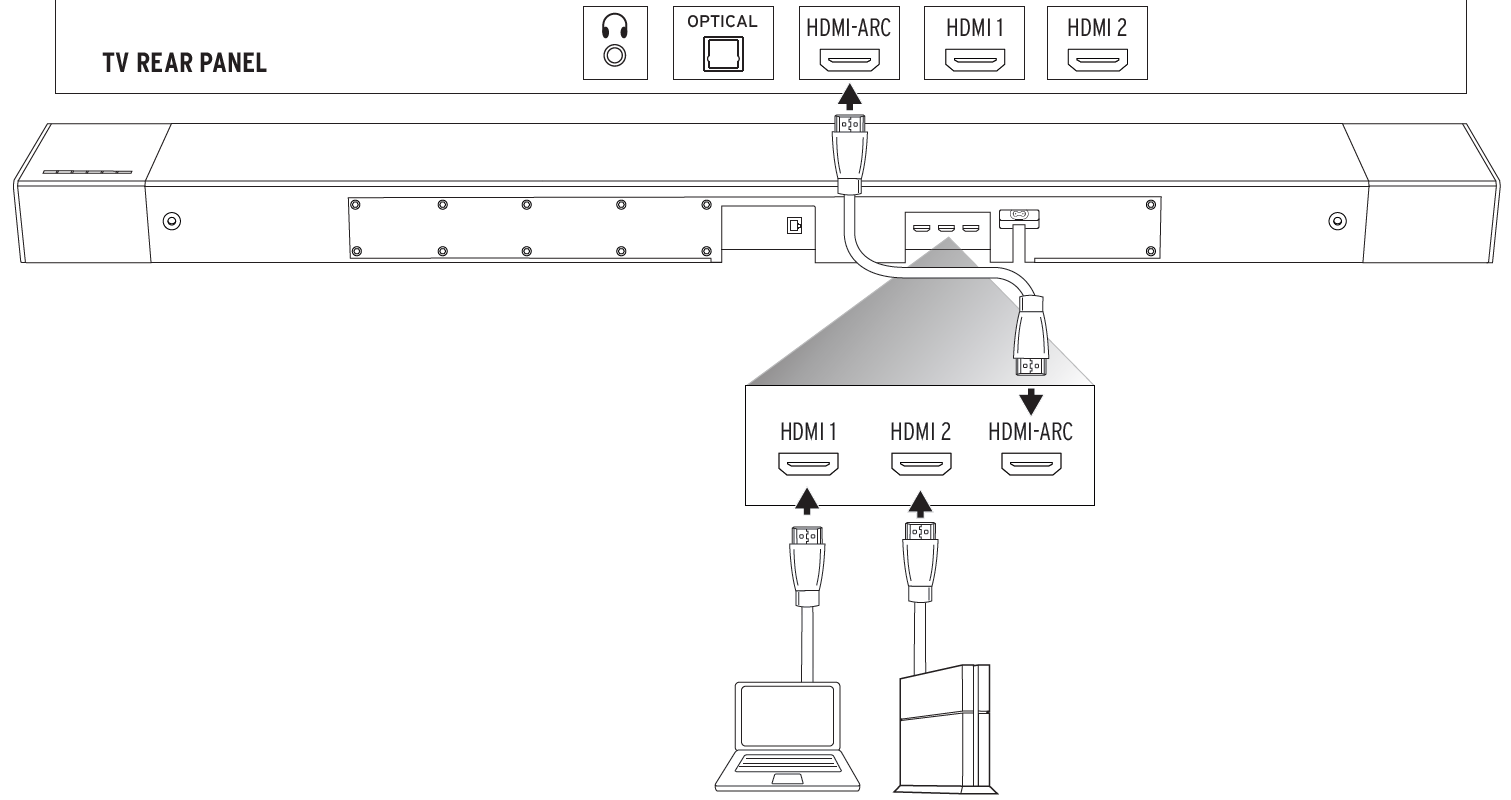 Connecting External HDMI Sources Through the Cinema 700:
Using an HDMI cable (one included w/ the Cinema 700), plug one end into the HDMI-ARC port on your TV and the other end into the HDMI-ARC port located on the back of the sound bar
When using external sources like Blu-Ray players, game consoles etc. plug one into each of the additional HDMI ports.

Note: For the pictured example above, we are plugging in a laptop into HDMI 1 and a game console into HDMI 2.

Once all sources are connected to the sound bar via HDMI, simply press the 'HDMI' button on the remote control that corresponds to the HDMI port the external device is plugged into.

Note: For example, using the above picture diagram as a reference, to enjoy content from the laptop, press HDMI 1 on the remote. To enjoy content from the game console, press HDMI 2 on the remote. You will see the LED screen on the front of the bar display which source has been selected.
ATTENTION:
The Cinema 700 can currently pass 4k-60Hz video signal. If trying to passthrough 4k-120Hz or 8k-30Hz, reduce the chroma subsampling on your device to 4.2.0.
If trying to passthrough signal higher than 120Hz, please connect the source device directly to your TV.
For additional methods of connection via HDMI, please see our articles - Cinema 700 - Connecting with HDMI-ARC & Cinema 700 - Connecting External HDMI Sources Through TV