Cinema 700 - Connecting via HDMI-ARC
Below, you will find information on how to connect your Cinema 700 soundbar to your TV via HDMI-ARC.

Note: If you wish to playback Dolby Atmos content directly from your TV to the sound bar, please note that your TV MUST support eARC/HDMI 2.1. Dolby Atmos playback also requires Dolby Atmos content and Dolby Atmos compatible playback hardware (players/HDMI 2.1 cable etc.). If your TV does not support eARC, please see our article - Cinema 700 - Connecting External HDMI Sources Through Sound Bar for other ways to enjoy Dolby Atmos content on the Cinema 700.
In addition, you may need to change the audio output format of your TV, streaming apps and/or external source devices (Blu-Ray, cable box, game consoles etc.). You can usually find the audio output format options within the Audio, or Advanced, settings menus within the TV or external source device. You can usually set the format to "RAW" or "BITSTREAM" so that the audio signal gets decoded by the sound bar. However, you can also try setting the format to Dolby, or other surround sound formats, if the RAW/BITSTREAM does not produce audio.

Connect the Cinema 700 to TV via ARC:
Using an HDMI cable (one included w/ the Cinema 700), plug one end into the HDMI-ARC port on your TV and the other end into the HDMI-ARC port located on the back of the sound bar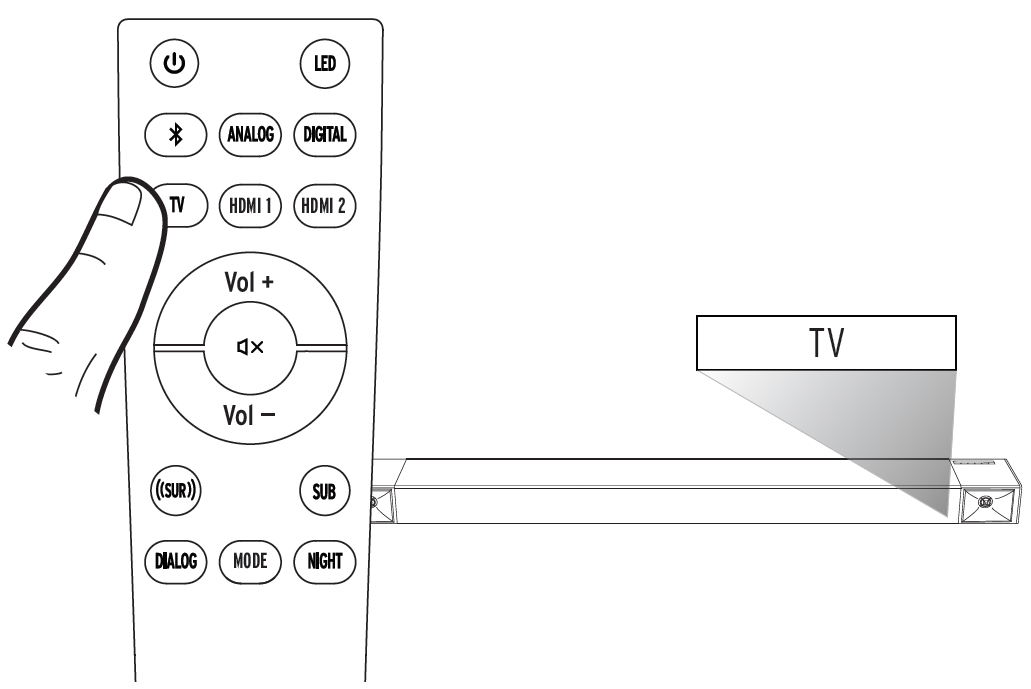 Press the 'TV' button on the remote control, or use the source button on top of the bar (to the right of the power button) to cycle through the sources until you reach 'TV'
The LED screen on the front of the bar should then display 'TV' to confirm the TV source
Please Note: The Cinema 700 soundbar requires the TV's CEC functionality to be turned on in order for the bar to receive audio via HDMI-ARC. You can usually find the TV's CEC settings within the TV's menu, options, settings or advanced settings.
Most TV manufacturers have a different name for their CEC functionality ('Anynet+' for Samsung, 'Bravia Sync' for Sony etc.). For assistance with finding what your TV manufacturer calls it's CEC, please see our article - TV Manufacturer CEC Names
For additional methods of connection via HDMI, please see our articles - Cinema 700 - Connecting External HDMI Sources Through Sound Bar & Cinema 700 - Connecting External HDMI Sources Through TV