Cinema 700 - Connecting via Analog
Below, you will find additional information on how to connect your Cinema 700 soundbar to your TV via Analog.

NOTES: Use this connection method ONLY if your TV does not support HDMI-ARC or Digital Optical connectivity.
In order to use this connection method, your TV must have a 3.5mm/headphone jack output built into it.
Analog connection does NOT support Dolby Atmos or Dolby Digital decoding/playback.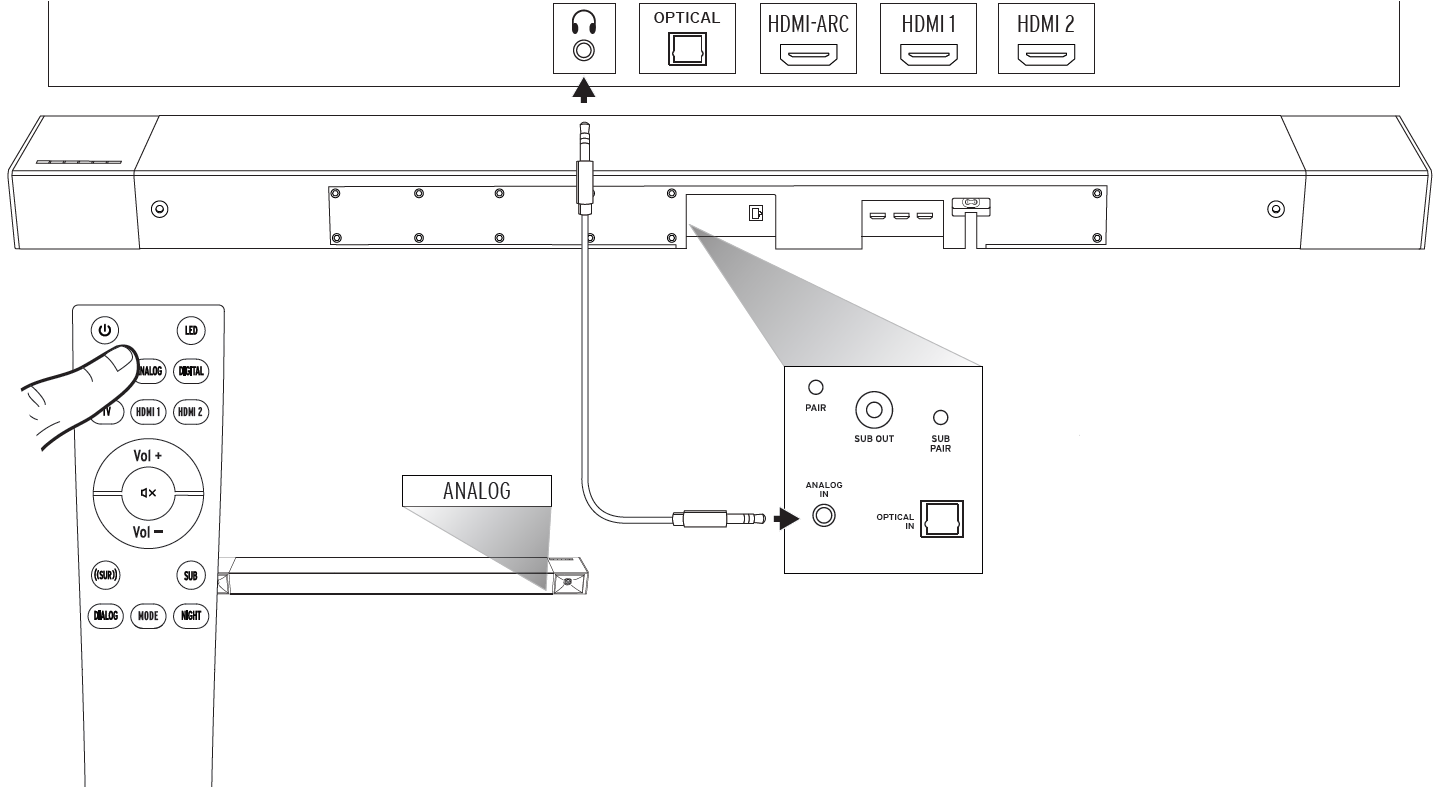 For this connection method you will need an Auxiliary cable (not included)

Note: An auxiliary cable features a 3.5mm 'headphone' jack on both ends of the cable. As an example reference, here is a 3.5mm to 3.5mm (aux) cable that would work for this connection method - Syncwire 3.5mm Nylon Braided Aux Cable

Plug one end of the cable into the Analog or Headphone jack on the TV. If you are unsure where the headphone jack is, please consult the TV manual or contact the manufacturer.
Plug the other end of the auxiliary cable into the 'ANALOG IN' jack on the back of the sound bar
Using the sound bar remote, press the 'ANALOG' button to switch the bar to the analog source. The front display screen should show 'ANLG'.
If you find that you are not able to get any audio, you may need to go into your TV's audio, or advanced, settings to change the audio output. You may be able to choose from different options such as, Optical, HDMI or Headphone, for instance. You also may need to turn the TV speakers off entirely in order to receive audio from the sound bar only.
If you have the option of choosing Fixed vs. Variable within the TV's headphone/audio menus, please see below for an explanation of what each does:
FIXED: The audio is fixed at one level. It doesn't change when using the TV remote control volume buttons.
VARIABLE: The audio varies and changes when using the volume buttons on the TV remote control.
Depending on your TV model and it's abilities, you may be able to control the volume of the sound bar with the TV's remote by choosing the 'VARIABLE' option.
For assistance on connecting external sources via Analog, please see our article - Cinema 700 - Connecting External Audio via Analog