Identifying the ProMedia 2.1 System Components
This guide will help you identify which components are which on the ProMedia 2.1 computer speaker systems. This can be helpful knowledge when troubleshooting or discussing the system with a repair center or Product Support agent.
Components of the ProMedia 2.1 system:
Control Pod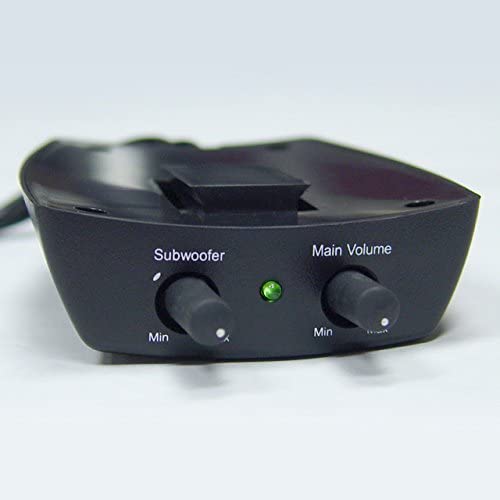 Control Pod - The pod underneath one of the Satellite Speakers; contains the Main Volume and Subwoofer volume control knobs.
The Control Pod will always have TWO cables attached to it:
Preamp Input Plug (plugs into back of subwoofer)

3.5mm Headphone Jack (plugs into audio source device: phone, computer, MP3 player, etc.)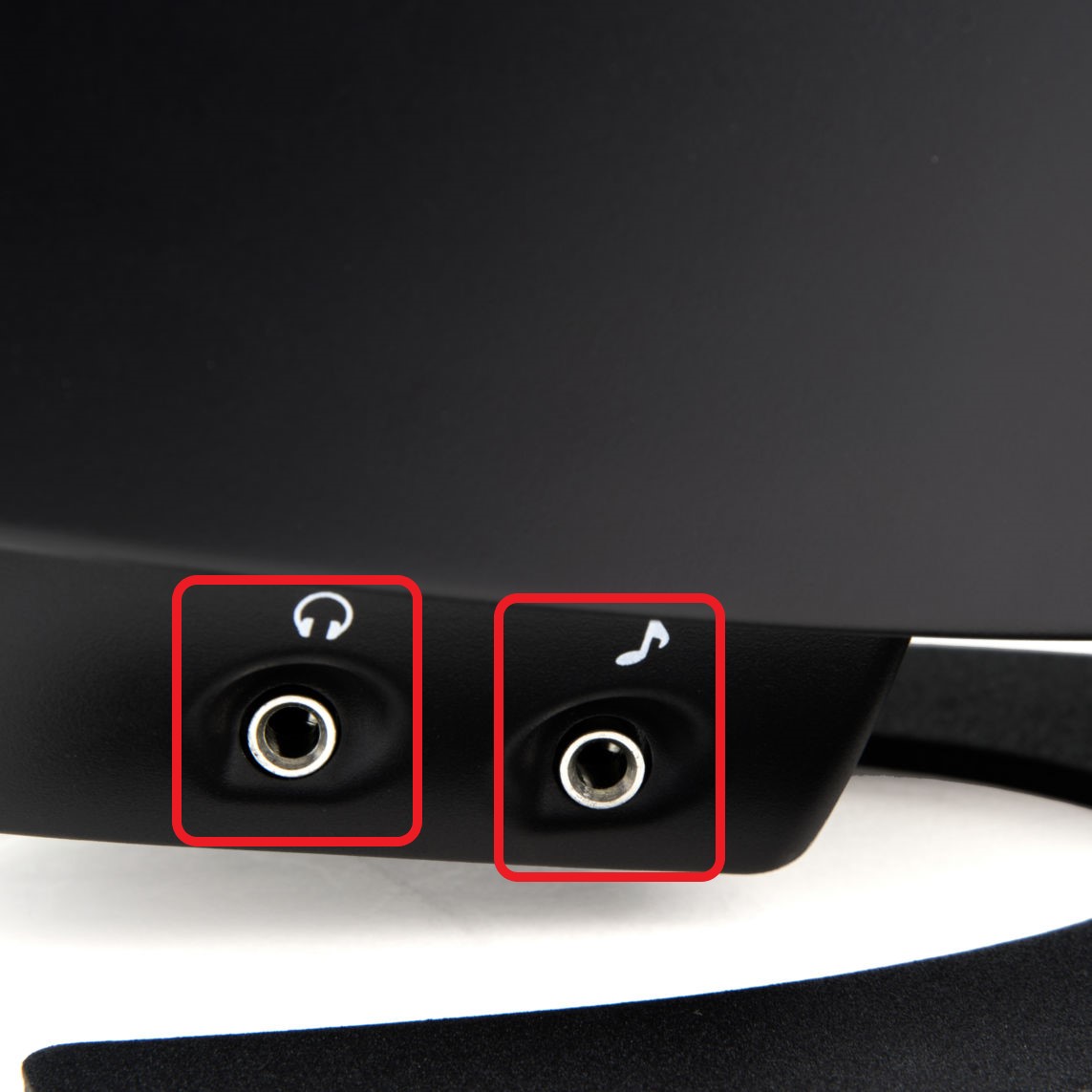 On the side of the Control Pod, you will find a headphone output and an auxiliary input. Use the auxiliary input to transmit audio through a connected auxiliary cable. Or, use the headphone output if you would like to listen to the system through headphones. A pair of headphones plugged into this output will prevent any audio from coming out of the satellite speakers.
Please note that this Control Pod IS removable.
To remove, simply apply a sufficient "push" to the front of the control pod and it will slide off the speaker as you push it back. To put the control pod back on, you will slide it back on essentially the same way that it slid off. Line up the "tracks" on top of the control pod with the bottom of the satellite speaker and slide it forward to secure it on the speaker.
Satellite Speaker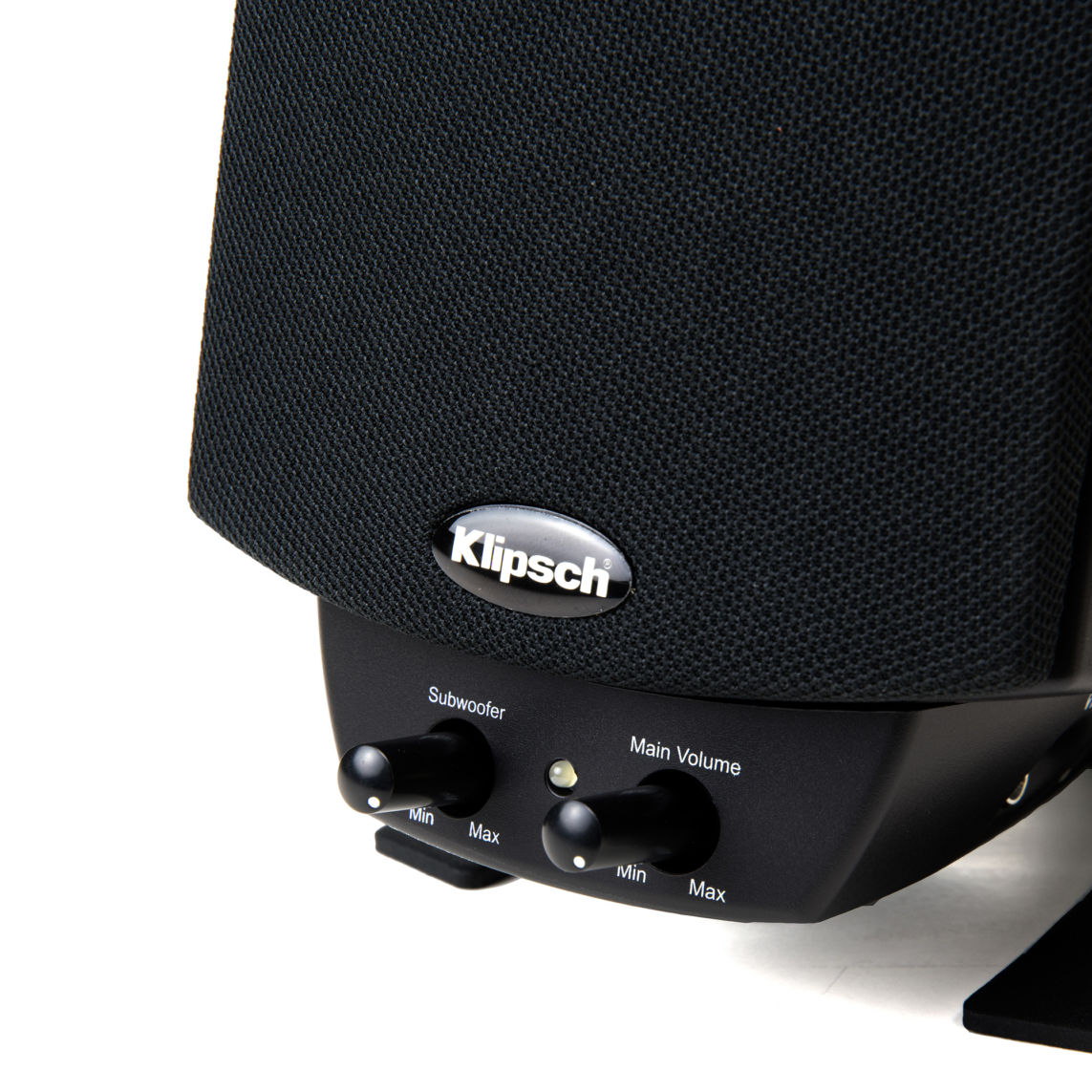 Satellite Speaker with the grill cover and Control Pod attached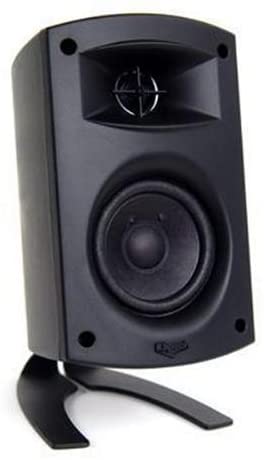 Satellite Speaker with grill cover and Control Pod removed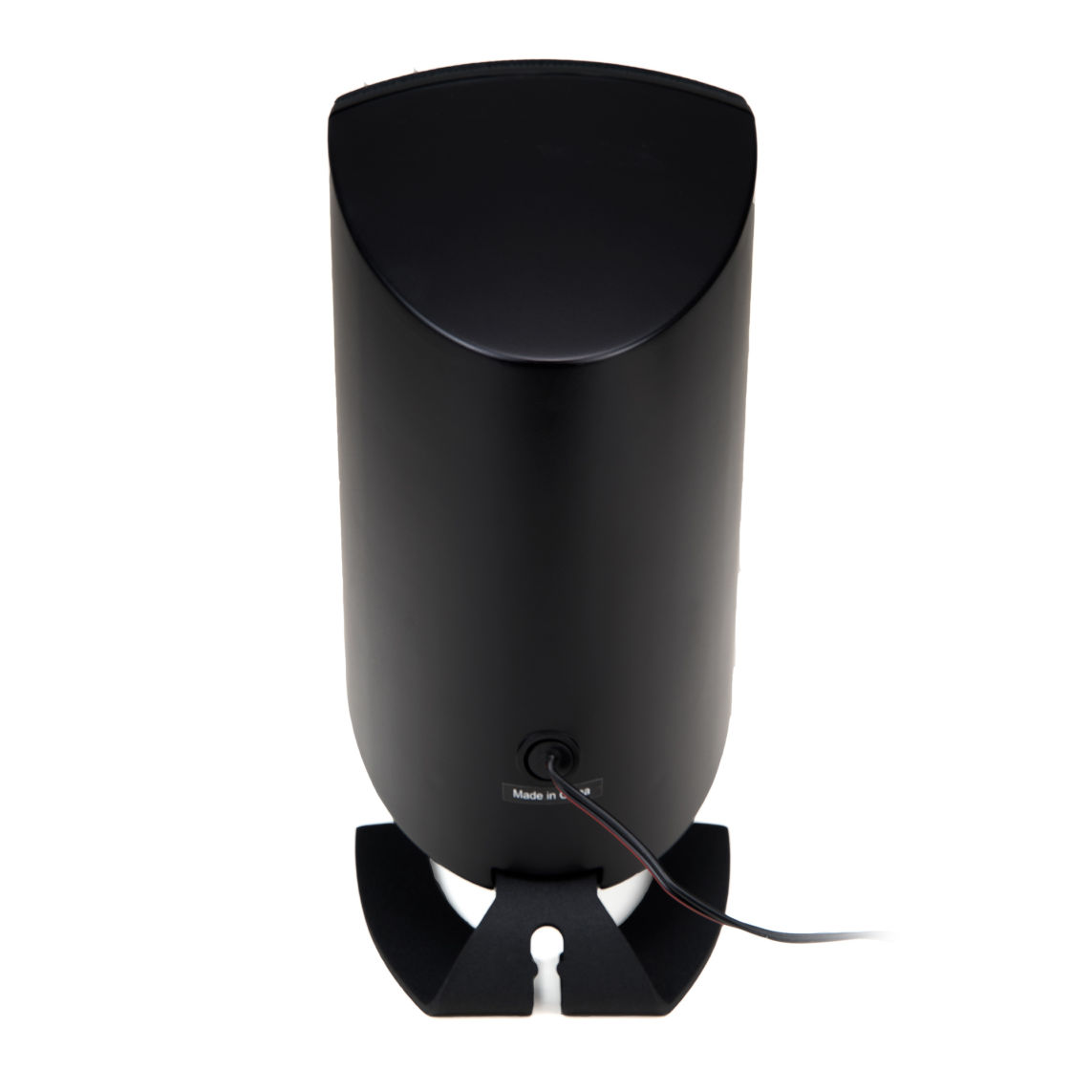 Back of the Satellite Speaker showing where the non-removable speaker wire is built-in
Subwoofer
The Subwoofer for the ProMedia 2.1 THX Certified system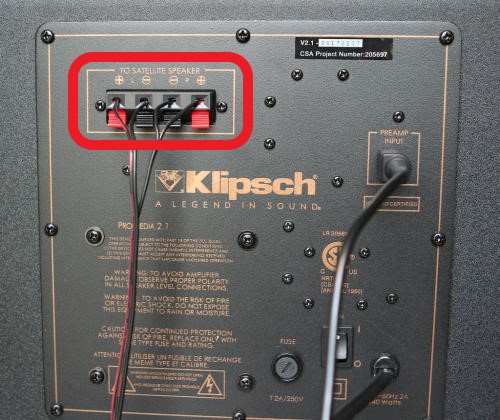 Backside of an earlier iteration of the ProMedia subwoofer, with the speaker wire inputs highlighted. The speaker wire from the satellite speakers will be loaded into these highlighted inputs.
Preamp Inputs
This preamp cable starts at the Control Pod, where it is hardwired (non-removable). The other end plugs into the back of the subwoofer where it is labeled "Preamp Input".
This preamp plug has seen two different versions for the ProMedia 2.1 system.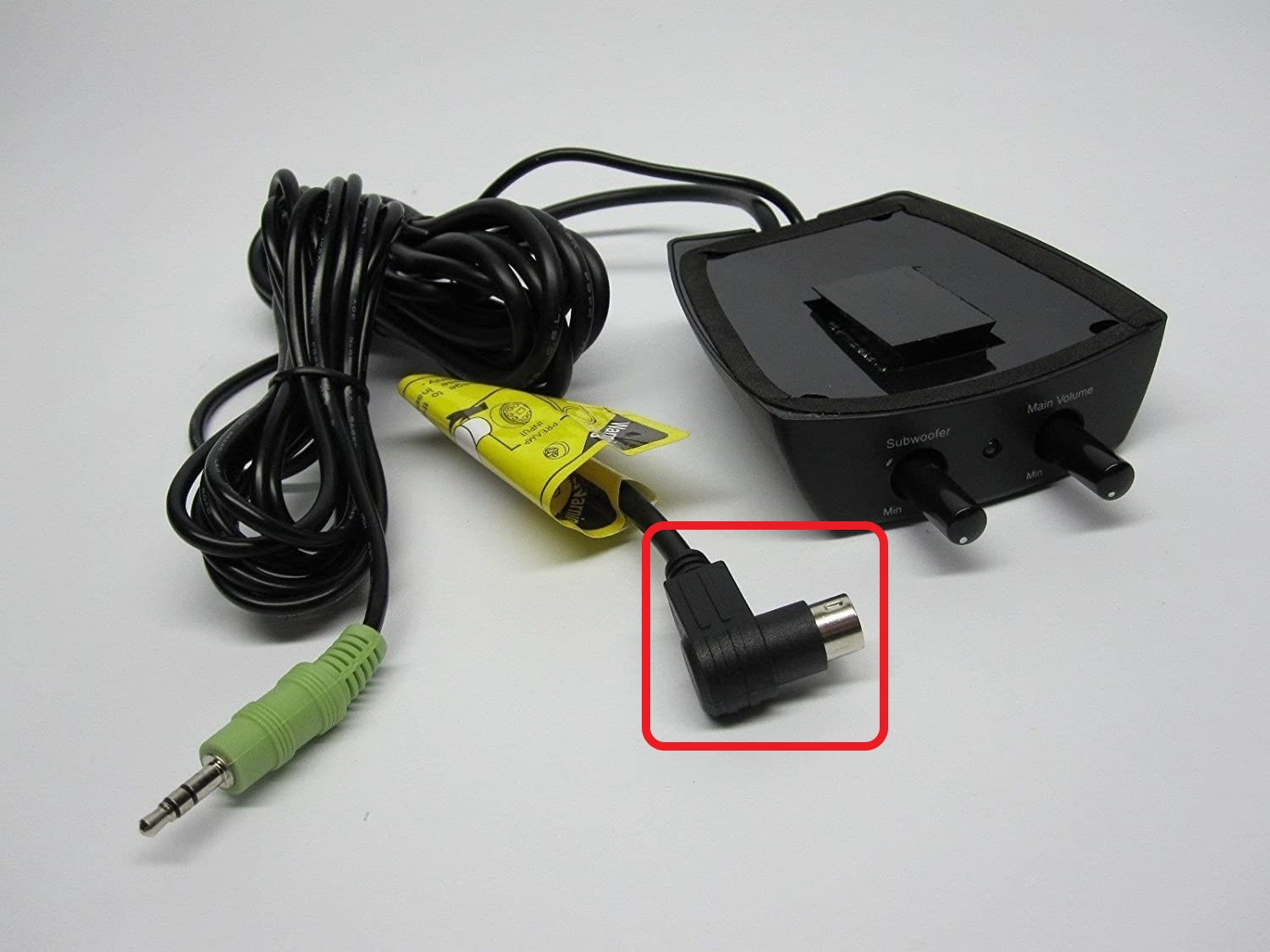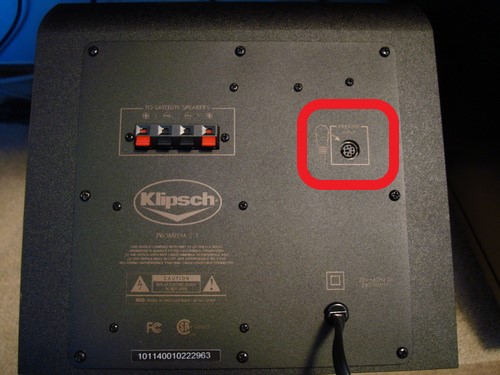 If you have an older ProMedia system (serial number starting with 1011400 or 1011409), you will find that the preamp input plug is a circular 6 pin DIN plug.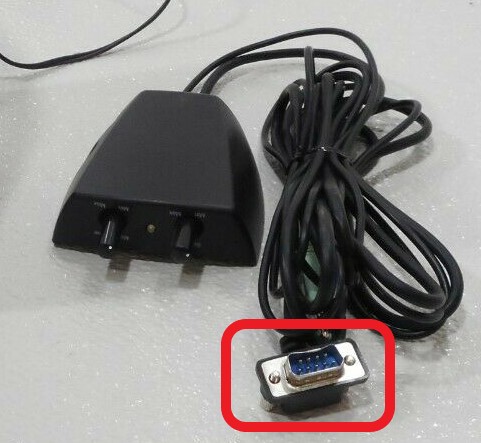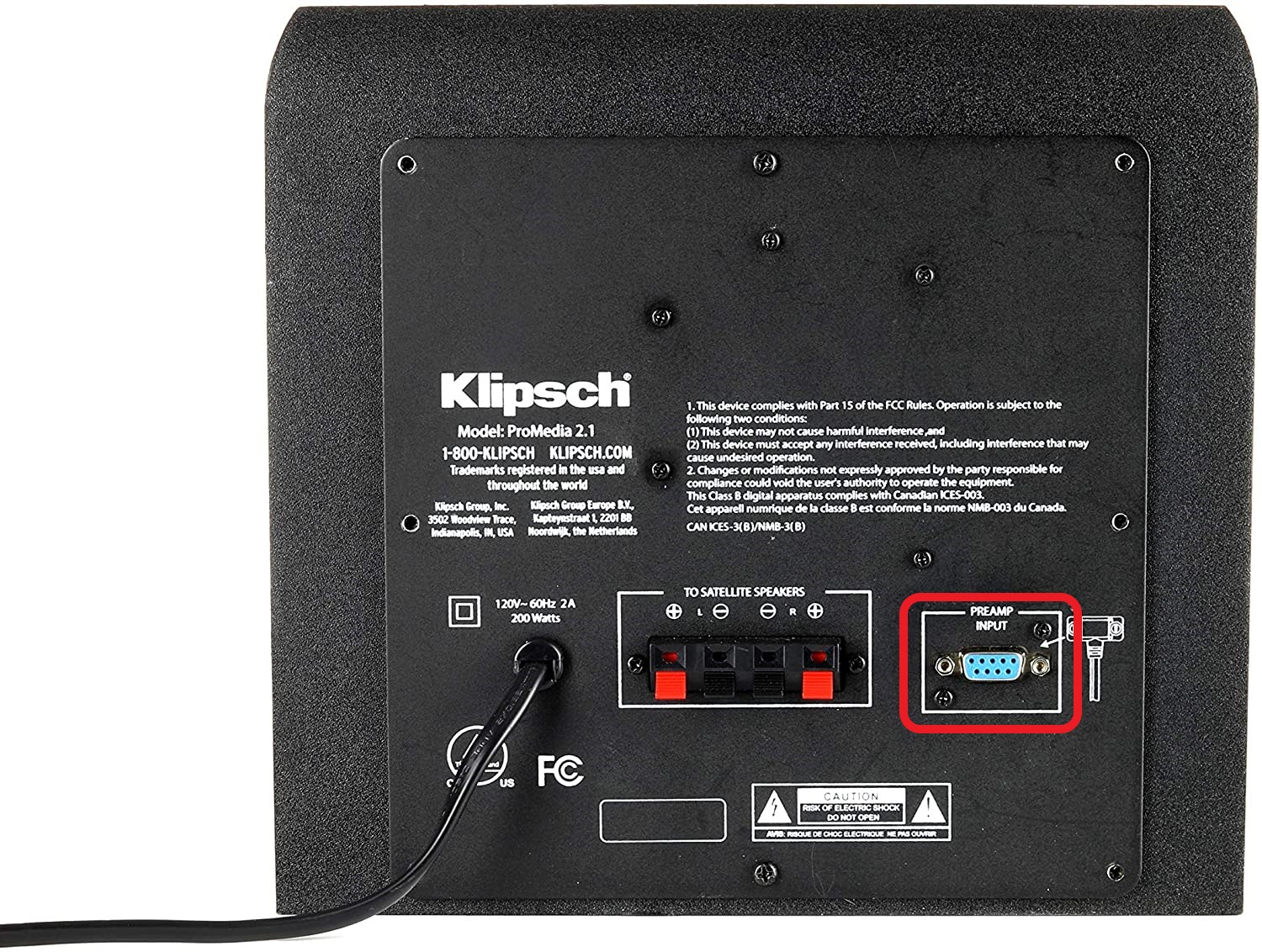 If you have a more recent ProMedia system (serial number starting with 1067415, 1066319 or 1062918), you will find that the preamp input plug is a rectangular 9 pin "VGA" connection.