ProMedia 2.1 - Removing and Installing the Control Pod
The ProMedia 2.1 comes with a removeable control pod that can be placed on either satellite speaker. If you were sent a replacement control pod, or would like to switch which satellite is holding the pod without messing with the wires, see the instructions in this article.
Removing the Control Pod
The control pod on the ProMedia 2.1 slides onto the bottom of the satellite speaker. To remove it, follow the instructions below:
Place both thumbs on the front of the control pod, and wrap your fingers around the backside of the speaker itself.
Squeeze your thumb and forefingers together to force the control pod to slide toward the back of the speaker. You can now remove the pod from the satellite speaker and unplug it from the subwoofer.


NOTE: Sometimes, this can be a bit stiff, so some force is sometimes required for first time removal.
See the GIF below for a visual aid: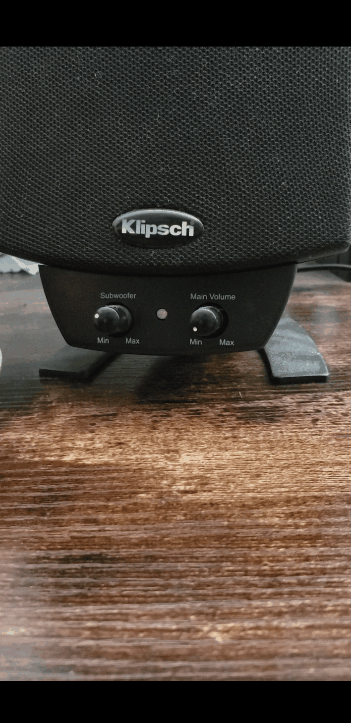 Replacing the Control Pod
Once you have removed the control pod, it is time to replace it. Follow the instructions below to successfully install your new control pod.
Plug the cable leading from the control pod into the "pre-amp" port on the back of the subwoofer.
Place the control pod underneath the desired satellite speaker and line up the plastic opening on the satellite with the plastic tab on the top of the control pod.
Place your thumbs on the front of the speaker grill this time, and wrap your fingers around the back of the control pod.
Squeeze your thumbs and forefingers together to slide the pod onto the satellite. It should be tight once it has slid fully onto the speaker.
See the GIF below for a visual aid: