Reference Cinema System 5.1.4 with Dolby ATMOS - Placement and Setup
Where do I place my speakers?
How many channels do I need to power this system?
How do I get the most out of my system?
The Klipsch Reference Cinema System 5.1.4 with Dolby Atmos is a wonderful setup for anyone trying to get into the world of Dolby Atmos. Each bookshelf speaker (front and rear right and left) is equipped with upward firing drivers, designed to reflect off the ceiling giving Dolby Atmos surround. This article will go through the best method of setup and placement to ensure you are getting the most out of this system.
NOTE: Since the Reference Cinema System 5.1.4 speakers reflect the Atmos signal off the ceiling, it is important your room have no higher than 10' ceilings to make sure the Atmos effect is not lost.

Left and Right Main Channel Speakers
For optimum performance, Klipsch Group, Inc. (KGI) suggests placing your speakers 6 to 15 feet (1.8 to 4.6m) apart. They may also be toed-in slightly for better stereo imaging. The listening position should be about 1 to 1.5 times the distance separating the speakers.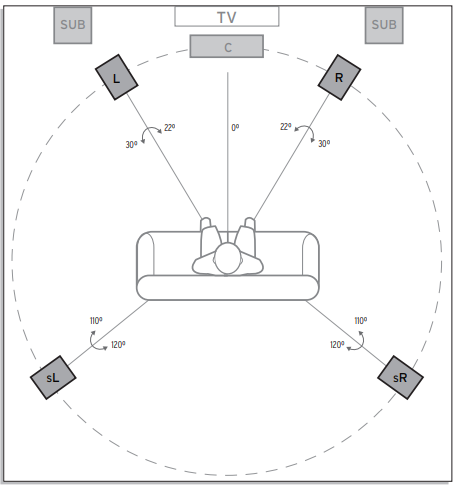 Rear Surround Channel Speakers
The Reference Cinema System with Dolby Atmos utilizes identical satellite speakers for both the main and rear channels for seamless integration of your system. The rear surrounds should be placed at the same height as your main channels, ideally between 110-120 degrees from the listening position. The final surround speaker placement depends on your room's characteristics. They are designed to recreate the sense of space and ambience that many of today's surround sound technologies provide.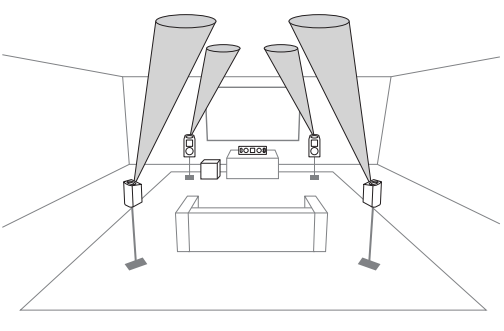 Center Channel Speakers
Center channel speakers are designed to place dialogue and primary sounds so that they appear to come from the video screen. The speakers should therefore be placed as close to the screen as possible, preferably directly on top of or below the screen.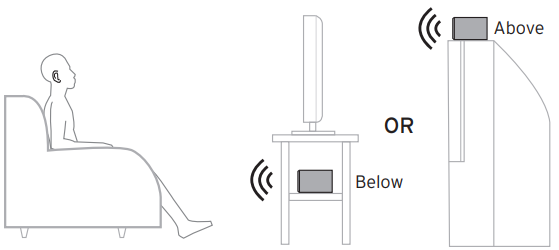 Subwoofer
Klipsch powered subwoofers are designed to reproduce deep bass and deliver the impact that makes your movies and music come alive. For optimum performance, place your subwoofer in a corner of the room on the same wall as your front channel speakers. Please note that room placement can have a dramatic effect on the performance of your powered subwoofer. Corner placement will increase the amount of bass output, while placing the subwoofer along the middle of a wall, or out in the room will decrease the amount of bass output. Experiment with a number of different placement options and control settings to find the one that best suits your particular room and taste. When choosing your subwoofer's location, keep in mind that you will need to connect the subwoofer's built-in amplifier to an AC power outlet.

Conventional Connection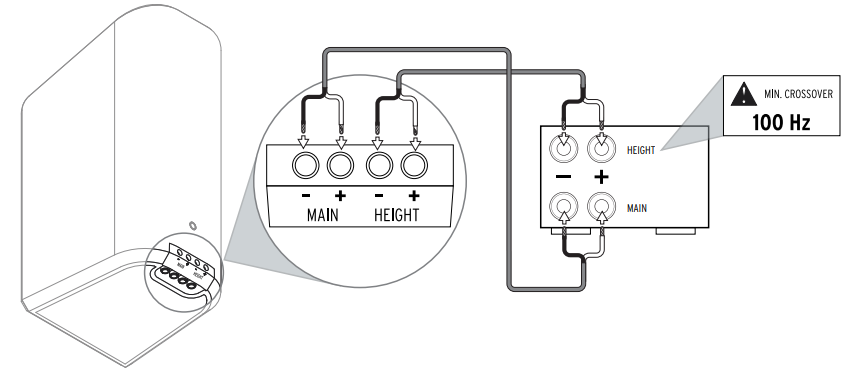 Using 24-14 gauge speaker wire, connect the RED "positive" (+) terminal of the LEFT speaker to the RED "positive" (+) terminal of your amplifier's LEFT channel. Connect the BLACK "negative" (–) terminal of the LEFT speaker to the BLACK "negative" (–) terminal of your amplifier's LEFT channel.
Repeat the above procedure for connecting all remaining speakers to the appropriate amplifier channels, making sure to connect the height channels to the correct terminal on the amp as well. Make sure that no bare wires from any of the connections touch any other terminals as this could cause a short and damage your equipment.
NOTE: Klipsch recommends a MINIMUM crossover frequency of 100Hz to ensure you do not damage these speakers.
Amplifier Requirements
Klipsch speakers are highly efficient and will operate easily on a wide variety of amplifiers. All Klipsch speakers are 8-ohm compatible and can be driven to very high levels with low distortion. Due to the high output levels Klipsch speakers are capable of reproducing, exercise caution with the volume control. Excessive volume over long periods can permanently damage your hearing. Overdriving your amplifier could also damage your speakers. Check with your dealer or amplifier manual to make sure your particular amplifier is best suited to your application. We want you listening for a lifetime.
For more information about choosing the correct amplifier for your system, see our support article here - Choosing the Right Receiver/Amplifier