Troubleshooting the Cone Woofer
If you have checked the sub's internal amp and find it is in working condition, the cone woofer should be the next component to check if you are still experiencing issues such as no audio or distorted audio. If your subwoofer is not outputting any sound and you have not checked the internal amp yet, it is recommended to check that first (Troubleshooting the Internal Amplifier of a Subwoofer).
Please Note: While this article is geared towards "home theater" subwoofers, you actually can use the troubleshooting methods below to test essentially ANY passive cone woofer.
To test the woofer, there are a couple of different tests that you can try.
The "Push" Test
Remove the front grille cover in order to gain access to the main active cone woofer
Use your hand to (somewhat gently) push in on the center/dust cap area of the woofer a few times (area to push highlighted in the picture below)
Note: If your cone woofer has a protruding dust cap that could be potentially indented by pressing on it, then use both hands to apply an equal-pressure push closer to the perimeter of the woofer.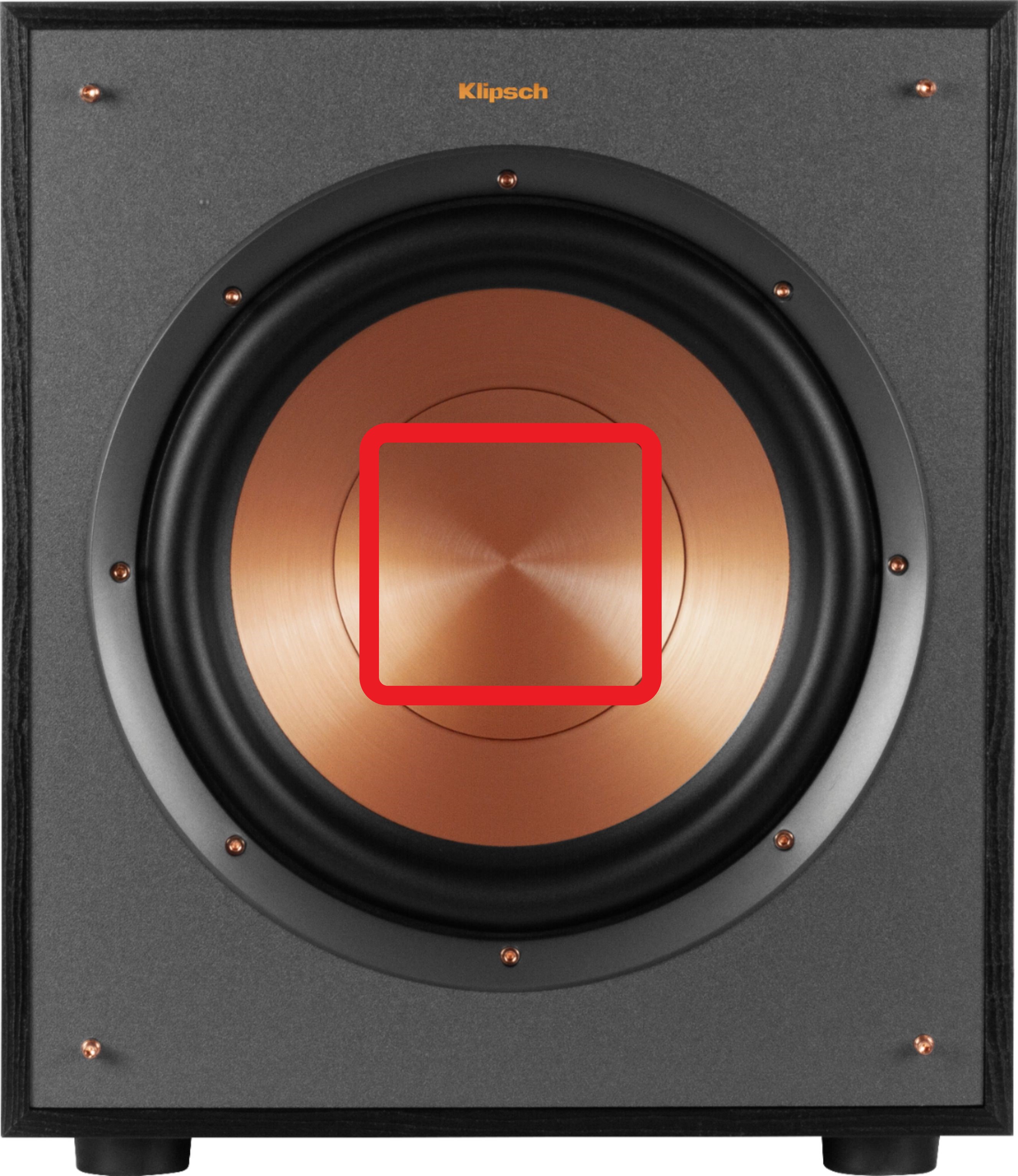 When pushing, if you feel or hear any interference (grinding/scratching/catching) then that would be indicative of a blown or damaged woofer. If you find that you cannot move the woofer at all when pushing, then the woofer has seized/froze. Either of these findings during this test confirms that the woofer will need to be repaired/replaced.
The "9V Battery" Test
If you would like a more "in-depth" test, you can perform the "9V Battery" test.
For this test, you will connect a 9V battery to the terminal leads of the woofer using standard speaker wire.
Wrap one side of the speaker wire around the negative terminal (the smaller one) on the woofer
Hold the other end of that wire to the negative terminal on the battery
Use the other side of the speaker wire and hold it directly to the positive terminal on the battery
Using the other end of that wire, briefly touch the positive terminal (the larger one) on the woofer a few times
Positive/Negative Terminals on a 9V and AA Battery: Location of Terminal Leads on a Woofer: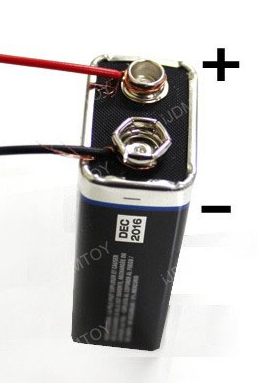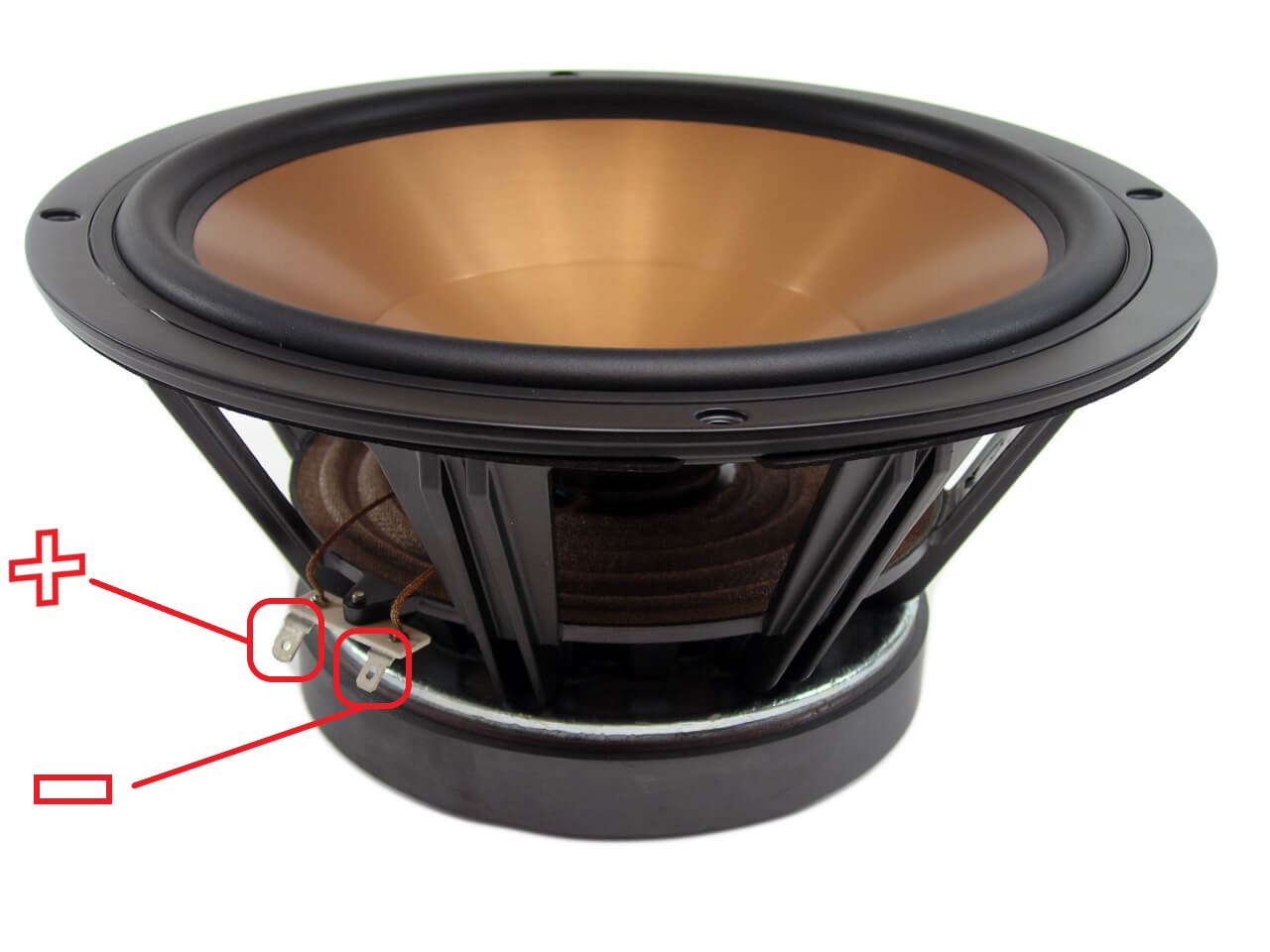 If the woofer pushes out each time you touch the wire to the positive terminal on the woofer, then it is likely still functioning properly.
For further assistance/explanation, please view the video below showing the 9V battery test
**Do not keep the 9V battery connected to the speaker for an extended period; it could cause damage to the speaker.**
After checking the subwoofer's amplifier and cone woofer, if you find that your subwoofer is still not outputting audio, the receiver is likely the only other component that could be the culprit. For assistance on common issues and solution when connecting a subwoofer to a receiver, please see our article - Common Receiver Issues for Subwoofers