RP-6000F II - Speaker Connections
The RP-6000F II has a new crossover design that should make your speaker wire connections more organized. See the image below: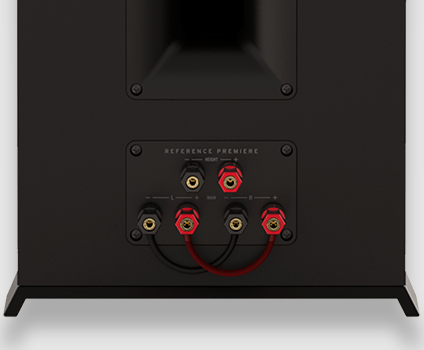 Main Speaker
As long as you have the red and black cables connecting the bottom sets of posts, you will only need to send one set of wires from your AV receiver to the back of the main unit for standard connection. If you wish to bi-amp or bi-wire these speakers, un-screw the binding posts and remove these jumper cables.
NOTE: If you do not have these jumper cables attached for standard connection, you will not hear audio from either the tweeter or woofer depending on which set of posts the wires are connected to.
Height Speakers
If you have a height speaker sitting on top of your RP-6000F II, instead of sending a set of wires from your AV receiver's height channel to this height speaker, you can now connect it to the "Height" binding posts on the RP-6000F II. Use the included "Banana" cables to connect the height speaker to the banana inputs on the back of the RP-6000F II to send the signal from the main crossover to the height speaker, as shown in the image below: