The Fives - USB Firmware Update
The Fives include special software, called firmware, that controls how the product works. By updating the firmware, you can get bug fixes and additional features. This article will walk you through how to update the firmware on the Fives.
What You Will Need:
Internet access, to download the files

A USB thumb drive, at least 2 GB in size, to hold the files, formatted FAT32 – see Formatting Instructions below
You will find the firmware update for The Fives attached to this article. Please see the installation instructions below:
First, please download the firmware file to your PC or MAC (file attached)
USB Thumb Drive Formatting Instructions
You will need to format the thumb drive before the Fives can read from it. If you already know how to format a thumb drive for FAT32, feel free to skip this step.
IMPORTANT: Use a thumb drive that doesn't store any important information. This process will wipe the contents of the drive.
Formatting Instructions – Windows
Insert the thumb drive into a USB port on your PC

When the drive appears on the left, right-click the drive and select Format…
Under Filesystem, make sure FAT32 is selected
Under Format options, make sure Quick Format is checked
Click Start

When prompted, confirm you're aware this will wipe all information from the drive.

The drive will be formatted

After you receive the prompt "Format Complete." Click OK and then close Format dialog box.

You are now ready to copy files to the thumb drive.
Formatting Instructions – macOS
Open Disk Utility

Insert the thumb drive into a USB port on your Mac – this may require an adapter, sold separately by Apple and many other manufacturers

Select the thumb drive you inserted

Click Erase
Select MS-DOS (FAT32) from the Format dropdown
Click Erase and wait for the process to complete
Click Done

You are now ready to copy files to the thumb drive.
Un-Zip the Files
Download the ZIP file from the link below and extract all the files to the thumb drive. It is important that the files be the ONLY items on the thumb drive. They should not be placed in a folder, otherwise the speaker will not be able to read them. An example of this is below.
Windows/PC: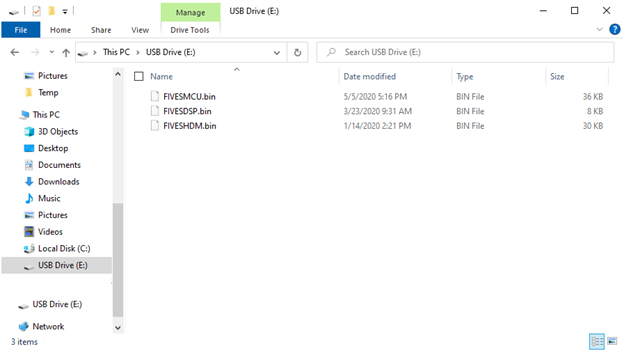 NOTE: Your drive letter may be different.
iOS/MacOS: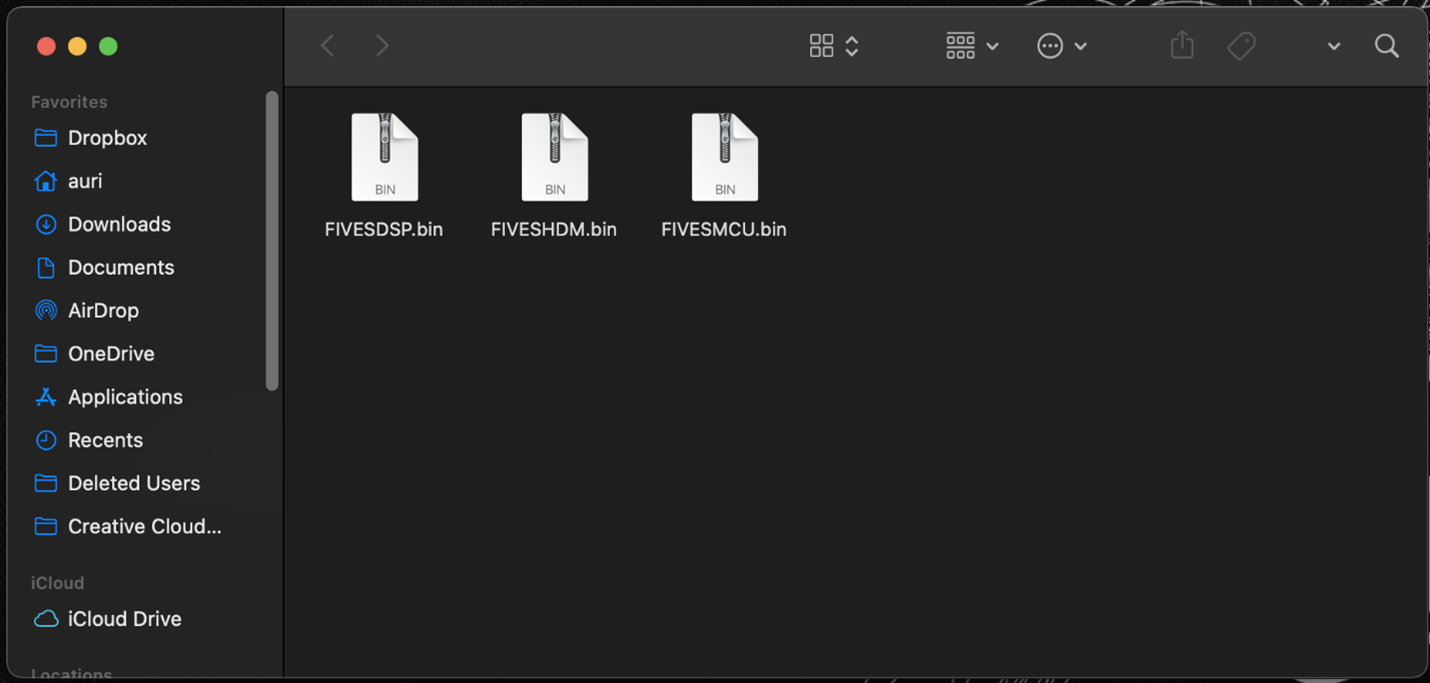 Once the files have been copied, follow these steps to install the update:
Extract the contents of the .zip file to a freshly formatted FAT32 USB drive

The USB file should only contain the contents of the .zip file

Remove the power cord from your Fives unit

Insert the USB drive into your Fives

Re-connect the power cord to your Fives unit

Wait 60-90 seconds while the update applies. During the update each input will flash and cycle through updates

Upon completion of the firmware update, the input will return to previous input with solid LED light

Remove the USB drive from The Fives

USB update is complete, enjoy your Firmware Update
HDMI, MCU and DSP will be updated with this firmware update
If you have issues with your update, please contact the Product Support team in your region. For assistance on contacting, please see our article - How To Submit