In this article, you will find a breakdown of the controls and functions when using both of the earphones in the standard stereo mode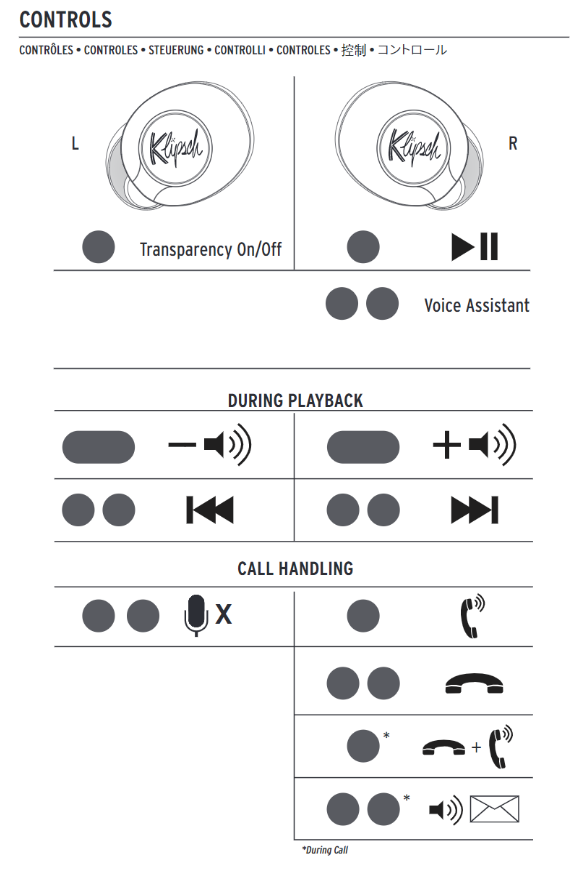 SOUND ADJUSTMENT:
Transparency Mode - To toggle Transparency Mode on/off, single press the button on the left earphone.

Note: Transparency Mode allows the built-in microphones to take in some of the audio from your surroundings. This can help with your awareness of your surroundings while listening to music, or while on a call. You will hear a voice prompt advise it is on/off when toggled.
DURING PLAYBACK:
Activate Voice Control - Double press the button on the right earphone to activate your device's Voice Control (Siri, Google, Cortana etc.)
Raise Volume - Long press the button on the right earphone to increase volume
Lower Volume - Long press the button on the left earphone to decrease volume
Next Song - Double press the right earphone to move to the next song/track
Previous Song - Double press the left earphone to play the track again, or move to the previous track
CALL CONTROL:
Answer Call - Single press the button on the right earphone to answer an incoming call
Refuse Call - Double press the button on the right earphone to hang up, or disconnect the call
Mute Microphone - While on a call, double press the button on the left earphone to mute the microphone
Answer Another Call - While on a call, single press the button on the right earphone to answer a separate incoming call
Hang Up - While on a call, single press the button on the right earphone to hang up
Send Incoming Call to Voicemail - If you are on a call and another incoming call comes in, you can double press the button on the right earphone to send the incoming call to voicemail