The Sevens - Connecting to TV via HDMI (ARC)
Please Note: A Basic TV HDMI input will not transfer the TV audio signal to the speakers. The Sevens must be connected to the TV's HDMI ARC, optical, or analog output in order to receive TV Audio.

In addition, you may need to set the audio output format of your TV, streaming apps and external source devices (Blu-Ray, cable box, game consoles etc.) to PCM or Stereo. You can usually find the audio output format options within the Audio, or Advanced, settings menus within the TV or external source device.
Insert the included HDMI cable into the HDMI (ARC) input on The Sevens
Plug the other end of the HDMI cable into the HDMI (ARC) output on the TV
If you have other devices to connect to your TV, insert another HDMI cable into the TV's input
Connect the other end of the HDMI cable to a DVD/Blu-ray player, gaming system, computer, etc.

Any devices connected to your TV's other HDMI inputs will still output their audio via the HDMI-ARC port to The Sevens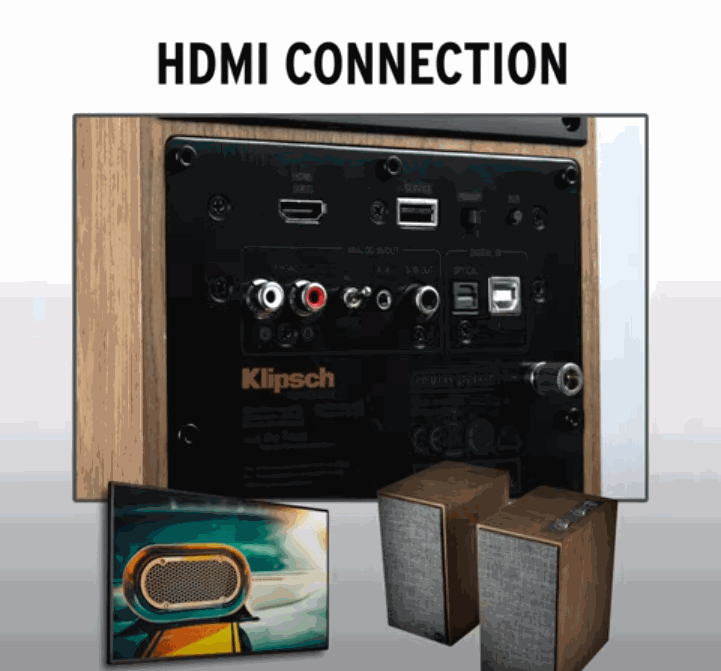 Note: If you are having any issues using the TV's remote control to command the speakers, you may need to enable your TV's CEC function. CEC is the technology that allows the TV remote to control external HDMI devices. If you are unsure what your TV manufacturer refers to it's CEC as, please see our article - TV Manufacturer CEC Names
If you are using Apple TV:
If using Apple TV as an external device, you will also need to set the audio output on the Apple TV to "stereo".
Turn on your Apple TV and go into the "Settings" menu. Choose "Video and Audio" settings.
Scroll down to audio and chooses "Audio Format".
Choose "Change Format". The Apple TV will then ask you to confirm this selection, tap "Change Format" again.
Once "Change Format" has been enabled, another window will appear beneath it. Choose this window called "New Format".
Change the "New Format" to "Stereo". Once confirmed, press the Home button to exit the "Settings" menu.
If you are still not getting audio through the HDMI, check out this article - The Sevens - No Sound Via HDMI ARC (Troubleshooting)